10 Health Benefits Of Unripe Mangoes – "Emiyembe Emibisi"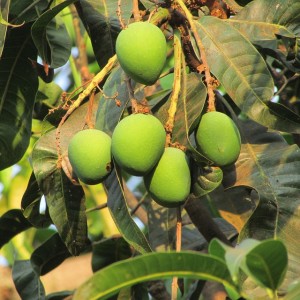 Find out the 10 health benefits of unripe mangoes to you. If you have been wondering what such mangoes can do for you, and what you can benefit by consuming them, then this article is right for you. "Emiyembe Emibisi" is a local "Luganda" language word which stands for unripe mangoes. Depending on the type of mango tree and the age of the mangoes, the unripe mangoes can be sweet or sore well as many people will enjoy them the way they are. This is simply because of the good in them, and a reason I am sharing with you the 10 health benefits of unripe mangoes just for you to know.
Raw or unripe mangoes are said to be rich in Vitamins like Vitamin C, and the same which is found in eatables like Bananas, Apples, Lemons and Oranges. This means that in-taking such fruits can help you more especially when it comes to what the contained vitamins do for our health. Read Pawpaws benefits.
A list of the 10 health benefits of unripe mangoes [Raw] / "Emiyembe Emibisi"
Helps in Constipation, and Indigestion problem
Raw mangoes have the ability to clear off body infections and cleansing the intestines. With such capabilities, constipation and indigestion problems can be solved.
Helps in Reducing Weight
Having plenty of body calories can be a reason to gaining a lot of body weight. And for raw mangoes, they have the capacity to burn calories when eaten. The more you eat them, the higher your chances of reducing that weight.
Treating intestinal and liver disorders
Pectin has the ability to treat gastro intestinal disorders, but when mixed with other contents like salt, honey and etc. The same unripe mangoes are rich in antioxidants, and vitamins like C which are good when it comes to fighting bacterias. When all of the above are combined, one can be able to treat intestinal and liver disorders.
Other health benefits include but not limited to preventing morning pregnancy during pregnancy, dehydration, acidity and chest burn, boosts overall body energy, cleansing blood and helping it move well, limiting sweating problems and many more others. Please note that contents here in are not replacements of medical recommendations, please read our disclaimer for details.