2018 Review: Freehosting.com Vs 000Webhost.com

Wondering which free web hosting service provider is best in 2018, between Freehosting.com and 000Webhost.com, don't worry, I have reviewed these two for you, and basing on a factual analysis and testing by myself. And yes, I have sites hosted on the two and I can tell you that this review is not in any way biased. It is based on a personal comparison between Freehosting.com and 000Webhost.com. I believe that by you reading it, you will get to reach on a conclusion on which one you should host your site with.
You see, many people have always asked me how and why I always chose between Freehosting.com and 000Webhost.com when it comes to hosting my testing sites, ready live sites and my client sites like AOT LLC and many others. And in this post, I also take it as an opportunity to answer you all who have asked me this same question of how I reach on conclusions when determining a best host for a site.
Like I said, this is my 2018 review about Freehosting.com Vs 000Webhost.com. All you need is to look at the different features as seen below and make a comparison. But still, I will share with you why I chose either over the other and am sure that will help you out.
Freehosting.com vs 000webhost.com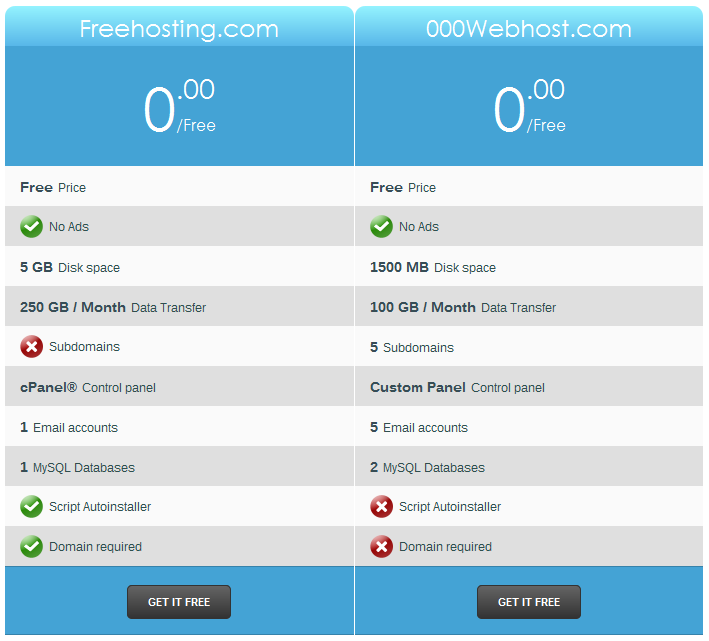 Now that you have seen some of the main features which and which to many like me are core, its time to make that comparison and know what is best for you. Personally, there are factors I consider when deciding on how to host a certain site for example, I love instant site activation. And the only way to do this is use auto script installations. Yes, they are fast and instant.
Conclusion: Both Freehosting.com and 000Webhost.com are good when it comes to the service they offer when compared with the other service providers out there. Sites on the are at most of the time up and online, and which is a good one to the site owner. You are on a sure deal of having your site up and hosted at no cost on all. But still, there is one which is better than the other at least in a particular service and you can only find out which is best when you try either out. Over to you.