5 Under $20 All-Purpose Leather Conditioners/Cleaners To Try
An All-purpose leather conditioner or cleaner is all you need if you are targeting multi usage. These all-purpose products works both inside your home for example on your leather chairs, in auto for example inside your car (interior), marine, and etc besides the fact that they are safer for all leather and vinyl. If you are a multi owner of the different leather products, this top list of the 5 best under $20 all-purpose leather conditioners and cleaners might be very helpful.
You will not only save, but you will additionally be able to enjoy the benefits which these leather conditioner products offer to end users. Whether you are looking forward to make orders from Amazon, Walmart, eBay and etc, you got to check out this top 5 list of the best under $20 products for all your leather needs. In below you will find the product specifications, pros, known cons, pricing, customer reviews and editors recommendation which when combined, you will be able make that choice and conclusion on which one to take as your best.
TOP UNDER $20 5 ALL-PURPOSE LEATHER CONDITIONERS AND CLEANERS
1. BLUE MAGIC INC 16-oz. Leather & Vinyl Cleaner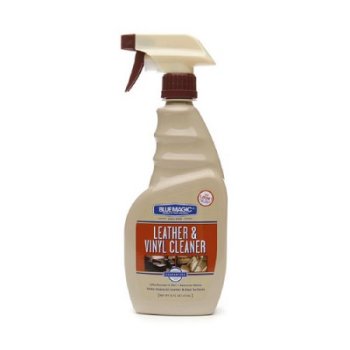 Is a multipurpose cleaner which woks both in home, autos, marine and safe for all leather and vinyl. Sold at an average price of only $9.51 on http://www.walmart.com/ip/BLUE-MAGIC-INC-16-oz.-Leather-Vinyl-Cleaner/45822418 Walmart.com], you get free direct to your home shipping. This same item can as well be bought at prices starting from as low as $4.47. Being a Multicolor, you are able to use on any leather color.
2. Guardsman Leather Cleaner Wipes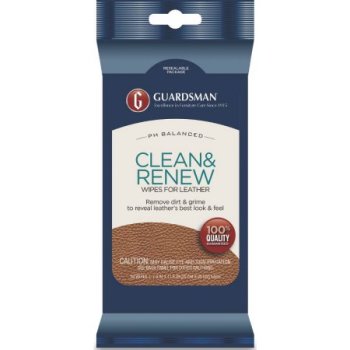 If you are looking for a way you cab create an invisible barrier to preserve against aging and premature damages to your leather, you might consider opting in for Guardsman Leather Cleaner Wipes. They are alkaline free, leaves no dust sticking residues, improves stain and soil resistance for easier cleaning, is multicolor and can be used on all vehicle colors and etc. On Amazon.com,, you can get this product from as low as $7.26. This product is rated at 4.3 out of 5, a sign that clients get satisfaction. . One known bad about it as claimed by a few customers under reviews is drying out quicker.
3. Milsek Leather Cleaner & Conditioner with Real Mandarin Orange Oil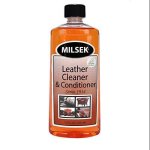 This is a leather conditioner and cleaner which is multipurpose. Milsek Leather Cleaner and Conditioner with Real Mandarin Orange Oil is a wax and silicones free product which is made in the US. It can be used on both "autos, boats, leather interiors, dash and console, leather furniture, leather boots, jackets and saddles. Can be purchased at only $15.99 on http://www.walmart.com/ip/Milsek-Leather-Cleaner-Conditioner-with-Real-Mandarin-Orange-Oil/50565552 Walmart.com] inclusive of a free home delivery.
4. Bayes Leather Cleaner & Conditioner – 16 oz
Bayes Leather Cleaner & Conditioner – 16 oz is a top rated and high ranking product regardless of where you get it. It is a multipurpose product known to "Clean, protect and conditions leather furniture and upholstery". It supports multicolor and only weighs 1.00 Pounds.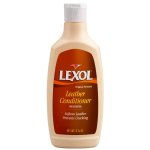 Lexol leather conditioner is a No Chemical Solvents, no greasy product which has made a name in "life of leather by restoring the oils used in the tanning process". This product is highly rated on all participating stores and has average reviews of high stars which means that indeed it works. You can check out here for more about Lexol conditioner.
The next time you think of buying leather conditioners and cleaners, I am sure this review about the top 5 under $20 best products as seen above will be very helpful. Knowing what you expect in advance is a way to help you make a better choice in addition to helping you save something for another purchase. Over to you!