7 Ways To Grab Free Money From Getpaidto.com Reviewed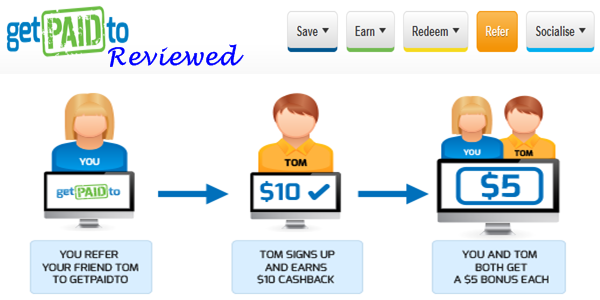 Getpaidto is a Paid to website which boosts to be the leader when it comes to paying its members for tasks completed. And yes, its a site which has more than 7 different earnings ways which when used, one can move away with some good extra cash at the end of the day (payment time).
On Getpaidto.com, all it takes is for one to register and instantly start earning points and money for example, you earn 20 points straightaway upon sign up and that's after verifying and validating your email address.
The different 7 earning ways for instant cash on Getpaidto.com website include the following..
1. Refer Friends – When you refer and once joins, you both earn $5. That means if you join here, you are guaranteed of earning up to that amount. You continue earning if you too refer and it goes on like that. There are 3 referral levels of 15%, 5% and 2%.
2. Offer Walls – Taking these kind of tasks allow you to earn GPT points. These points are used when its time to shop or redeem.
3. Surveys – These are High paying point tasks. You take them, complete them and earn their rewards.
4. Tasks – You take them and earn their rewards. All attract good points and are international.
5. Videos – Very simple, you earn points for watching videos. This is one of my best since I sometimes watch my favorite videos.
6. Games and promitions – If you love playing games, then this will help you earn more points.
Once you have earned, you can redeem in many ways including Gift cards, cash back boosts and cashout points.
Legitimate or Scam? You must have been waiting for this. But so far, I can say that the site is legit. I will confirm with you when I finally attempt cashing out. I know a scam site wont allow while a legitimate one will.