9 e-Currency / e-Wallet To Payza Funds Transfer Exchangers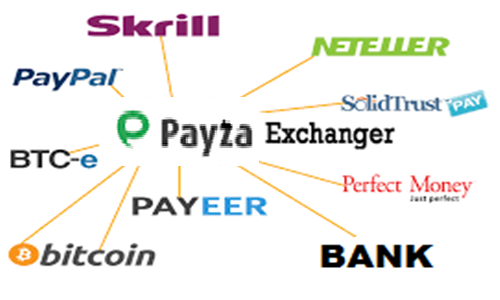 Wondering how to transfer funds from or to your Payza account from the different e-Currencies and e-Wallets easily? Or you are simply looking out for the genuine and legit e-currency exchangers which you can trust your money with when it comes to adding funds to your Payza or from Payza to another payment processor? This article is for you, and all you need is to take time and go through it entirely.
In here, I have compiled a list of up to 9 e-Currency / e-Wallet exchangers which you can make use of to transfer out or transfer in funds from Payza to other Payment processors eg PayPal, Western Union, Bank, and or vice versa. This list has been carefully reviewed and all of the listed sites have good reputation and are trusted providers.
But please note that this list is for informational purposes only and in no way does it replace your own feeling or choice. You are therefore advised to carefully inquire more details from either provider before you can eventually transact with them basing on the fact that things keep changing from time to time. Below is the list of 9 Payza in and out funds transfer e-wallet / e-currency exchangers.
1. Ecurrencyzone.com
2. Exchangezones.co.in
3. Changer4u.com
4. Rchange.net
5. Paysera.com
6. Goldux.com
7. Magneticexchange.com
8. Changex.com
9. Netex.me
Transacting with a legitimate service provider when it comes to funds, is one way to be safe when it comes to guaranteeing that your money will go where it is supposed to be. That is why it is very important for you to find a good exchanger who has a good reputation in order for you to be safe. Also read, Best payza exchangers 2017.
The next time you think of performing an out or in funds to Payza, or even other payment processors, you might consider trying out any of the above. Like I said, this is for informational purposes only. Taking time to find every detail with regard before doing any transaction will help you learn more.