ClickCPM.com Reviews – Pop-under Network With $10 Minimum Paypal / Payoneer Payments – How It Works & More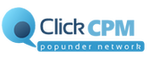 You have possibly heard of ClickCPM.com right? And you might be wondering whether it is a legitimate or scam site right? Sure, that is what many of you out there would want to know about the same, and a reason I reviewed this Pop-under advertising network just for you to know whatever you had wanted to. If you are looking for a Pop-under advertising network to reach your goals as a publisher, and or wanting to make a choice between the different services for example Adsoid, Tribaladnetwork, and others, then you should read this ClickCPM.com Reviews about the minimum $10 payments network which pays through Paypal and Payoneer, by me and find out.
In brief, ClickCPM.com is a Pop-under Advertising network which claims to pay only $10 as a minimum payment and through Paypal or Payoneer. This same network gives more than a single reason as to why anyone out there who is looking forward to making some good money online to try them out. Some of those publisher benefits as to why they should chose them include;
– High eCPMs on 240+ countries
– Weekly payments and multiple payment methods
– Detailed statistics for your site app
– On-time payments, twice a month $10 Paypal and Payoneer.
– Raw Traffic : Get more money with our pop under Raw traffic system.
– Self service platform.
– Detailed statistics real time stats where you can check in real time the traffic statistics for your websites.
– eCPM optimization
– Fast Approval your website will be part of our pop under ad network in no time.
– Timely support, and much more
You can simply get to know about the above when you visit ClickCPM.com website under publisher page. However, the big question many ask about ClickCPM.com is whether it is legit or scam, and to how it works. And this post, and right below has all the answers.
What is ClickCPM.com and how does one get started?
Like you see in the introductory paragraph of this same post above, ClickCPM.com is a Pop-under Advertising network just like others you know. To get started or join , you need to own a website, and which is running. Your website is required since it's where you place your ad unit code so as for your ads to be viewed and for you to start earning money.
How do you Join, and have your Website or Blog approved?

Joining ClickCPM.com is pretty simple and very easy. You simply access their website, hit signup or start your campaign, fill in all required information including name, email, password, and create your account. Instantly, you will get an email containing an activation link and which you should click on. You will instantly access the log in link and log on. The website approval takes up to 72 hours upon adding it and which you should wait.
How do you get the Ad unit code and place it on your website?

Creating your Ad unit is very easy. Once you log on, you can simply navigate to Publishers, hit get code and follow prompts. When done, copy and paste the code under the tags below and, you will start earning in a few seconds after.
[code]< head > < /head >[/code]
Minimum payment threshold and form of payment
ClickCPM.com has a minimum payment threshold of $10, and which is payable through PayPal and Payoneer.
Is ClickCPM Pop-under network Legitimate or Scam?
This is the top point in all. As of now, I am unable to confirm whether it is a legitimate site (well as I definitely think so), and or a scam site. This I will tell you once I reach the minimum payment threshold and after I am paid. Of course I joined and am already having their ads running on my other site. And when am posting, I will make sure that I add a payment proof and screenshot just to share with you. For now, all I know is that ClickCPM.com is legit.
Winding up : While ClickCPM.com seems to be a legitimate site, you can take a look at the different reviews you may come across on other sites. This is important to you since you will get to know and too get more proof about how it works and what you need before making a choice..