Create Free Posters with DesignCap: A Beginner's Guide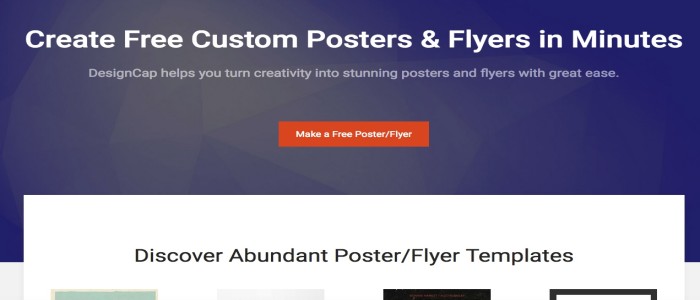 If you want to create free posters online for your event, shop, company or for any reason, there is an easy-to-use tool called DesignCap. This online application, in addition to simplicity, has some highlighted features:
1. It's free, no additional fees.
2. It works online. You do not need to install it on your pc.
3. It has many professionally designed poster templates. You don't need to worry about where and how to start your design.
4. Full customization tools to ensure that you get the unique and original posters with ease.
5. An extensive collection of fonts, shapes, icons, and banners ready to use.
6. Easy and simple to use, regardless of your skill level.
In this article, we will go to see together how to create posters to promote an event. Here are the basic steps to create online posters with DesignCap.
To use DesignCap, just connect to the following web address: www.designcap.com.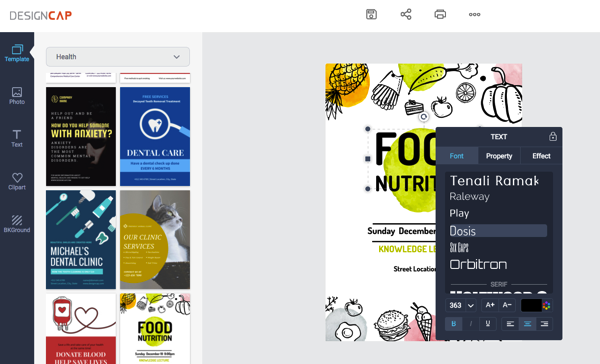 You are not required to register for using the service. But if you want to save your work for further editing, you must log in to an account. I suggest you register with your Facebook account. It will not be used for other purposes than to access the App and save your graphics projects.
Once you enter the site, you will see a very clean and intuitive interface. By clicking on the button "Make a Free Poster/Flyer", you can go to the editing canvas.
DesignCap provides hundreds of templates for inspiration. You can choose what you like best and start to modify it with your own taste. With DesignCap, you can change colors, text, images, background, and add/remove any shapes in the simplest way possible.
To edit the text, click with the mouse on any text box and then change the color, font, and size, etc. on the text-editing panel. My suggestion, in this case, is to use no more than 2 types of different fonts. Even for colors, never go beyond 3.
Once the text has been modified, you can move on to the images. You can upload your own photos to use or choose from DesignCap's stock library.
Once added, simply drag with the mouse and drop it over the desired position. You can also resize, rotate and choose filters for every single image.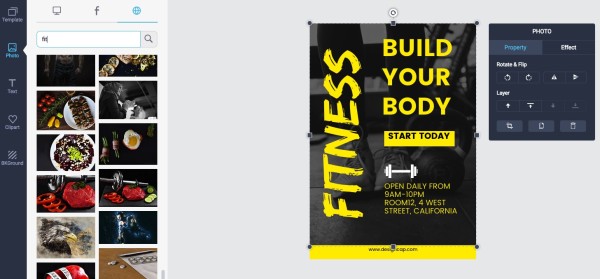 Then go to add or remove the clipart images. There are lots of pre-designed shapes, lines, icons, holiday symbols, and decorations available. Choose the one you need and customize it to your preference.
Once your poster is ready, you can save it, share it via social media or print it out!
To save the poster, click on the Save icon on the top and choose the format (JPG or PNG). If you want to share the poster on social networks, choose Share icon on the top and then you can share it via Facebook, Twitter, Pinterest, and Tumblr.
If this article that explains how to create free posters with DesignCap has been helpful, please share it.