To [email protected]…com,The Fashion Rules Everyone In 2016 Spam

Okay, let honest be it. The truth is that I hate spam and all spam related activities. Wanna know why? The answer is simple. Spam makes me feel incomplete due to what it contains in many cases just like you see the headline above – The Fashion Rules Everyone in 2016. Just imagine waking up and seeing an alert in your inbox say 1 unread message. The first thing anyone can think about is that may be, my business proposal has been accepted right?
But only to discover that this email is purely spam. Now this makes me wonder how and where these spammers get our real email addresses. Could it be that some people we communicate with do sell our email addresses? Could it be that they simply guess and send those mass unwanted emails like The Fashion Rules Everyone in 2016? Or, these spammers simply hack emails of those individuals we communicate with and get our emails to spam.
Now, this "The Fashion Rules Everyone in 2016" I received over the weekend made me wonder. Its true the email content has something like unsubscribe but guess what, the link is not active and nor does it work. It is simply added to fool around the reader. Check this below and you will prove why I have spam..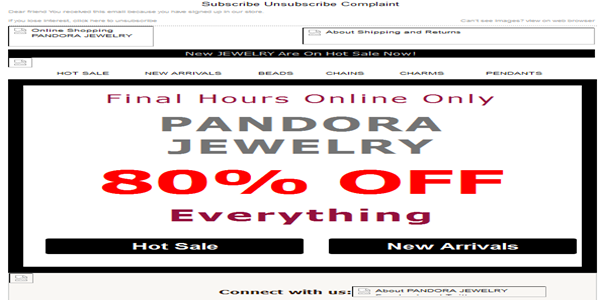 Honestly, I never visited nor subscribed to Pandora jewelery as the email claims. This is an email which is spam to me since its against my will. The unsubscribe link never works since it's just a word with no active link. Emails come from time to time and without anything I can do. What hurts more is that each time, they use a different sender just like you see in this being sent from [email protected] Oh gosh, stop this spam.