How To Block Spam Callers, Debt Collectors & Telemarketers Using CallDetector App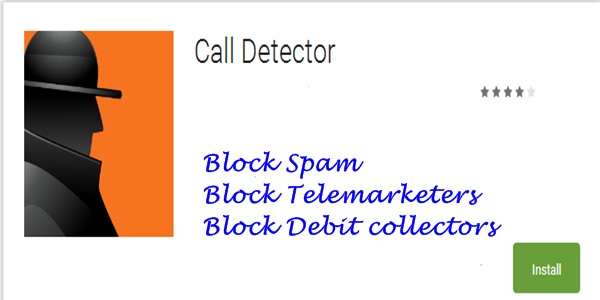 CallDetector is a smartphone app although it can too be installed on PC if one follows the right procedures. If you are trying to get rid of those spam calls, calls from telemarketers and debit collectors, then this application might be one of those you should try out. In this post, I have shared with you how you can make use of and too reviewed its awesome features you might have been looking out for. Oh yes, go on and read this post in full, slowly and learn how to block on your Android – Samsung
Available on Google play store and for free, "CallDetector gives you the ability to block any unwanted phone calls as well as automatically block all known scam callers. This means that you can instantly be able to get rid of those unwanted calls on your Straight Talk, TracFone, Telcel America, Net10 and Simple Mobile if you are a customer basing on the fact that this app was developed for you.
What are CallDetector application features?
This is the question others and you reading this post for the first time will ask. And yes, this smartphone application his very rich in features and some of them include but not limited to;
FREE Scam Blocking
• FREE Complaint filing against offending callers
• New Scam Blocker automatically blocks all known Scam numbers.
• Know why they're calling: Incoming calls from telemarketers & debt collectors identified immediately.
• Call Center notifications enable customers to take immediate action against telemarketer & debt collector violations.
• Stop calls from unknown or anonymous callers with Call Detector's "Settings".
• Set phone to "Do Not Disturb" mode in blocking options when you go to sleep or are in a meeting.
• Configure a custom text response to incoming callers letting them know that you are not taking calls.
• File FTC complaints against abusive telemarketers, unlawful debt collectors, and illegal callers with Call Detector's "File a Complaint" functionality.
• No Banner Ads
FREE during 7 day trial & with in app purchase after the trial
• Block unwanted callers
• Automatically block known Scammers
• Identify incoming telemarketing & debt collector calls
• Block all private or unknown callers
• Do Not Disturb mode with custom response
• Report Do Not Call violators
• Report telemarketing violations
• Report debt collection violations
• Unlimited real-time caller ID
• Unlimited reverse number lookup
• Ability to block calls by name (all known numbers used by the same company)
• Advanced customization of CallCenter
How to install CallDetector app on your smartphone or PC
Install this call blocking application on your smartphone is very simple, head on to Google Play store using its app, search for CallerDetector and hit install. The app will auto download and it will be installed on your Straight Talk, TracFone, Telcel America, Net10, Simple Mobile or any other supported provider device. You can then run it and configure it the way you want so as to start blocking. And for PC installation, first install an emulator like Andy OS, download the APK installation file and run it just like on your android mobile.