How to Check Status Of National ID Card Application Using Phone
If you submitted in your Uganda national ID application, I will show you how you can track the status of your application using your mobile phone. Yes, it all means that rather than wasting your transport costs and travelling to the selected centers to whether your NID is out or not, this option saves you much as it allows you do all that at the comfort of anywhere.
Ever since national ID cards were introduced in Uganda, many people have gotten their ID's while others have until today failed to get them. Many share reasons being that they don't know whether their cards were printed and some say that they completely lost track of everything.
If you are lucky and still have their National ID registration form copy, then here are the good news for you. Using the application ID which is written on your form, you are able to track your NID status using your mobile phone and at free of charge. Yes, the option and procedure is free and doesn't cost you any shilling meaning that even with no airtime, you can know where your ID is.
How to check your Uganda national ID card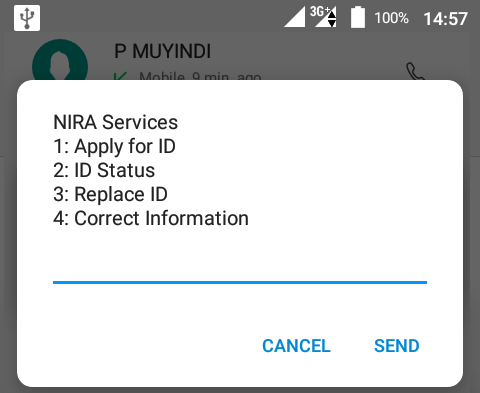 Dial *216# and YES, OK or SEND.
Input option 2 for application status and OK.
Enter your First name (Sur name) and OK.
Enter your Given name and OK.
Enter application ID no and OK.
At this moment, you should wait for the system to confirm the status of your application. You will either be shown where you can pick your ID from and or be told to call NIRA or go to Kololo in case your application is not seen.
You can use the same number *216# to do more than tracking for example, correct national ID details, apply for a new one or get a replacement.