How To Enroll / Apply For 2016 Humana Medicare Plan Online
This guide is about how to Enroll for Humana Medicare Plan online for year 2016 now that 2015 is close to an end. But before we go straight to the how to procedures and steps you should follow in order to successfully apply, how about if we get know what Medicare is and what its all about.
Medicare in simple terms is a way which helps and covers more than 48% of a person health care charges but only for those who are enrolled and depending on the plan. And for one is enrolled, its simply means that the said percetage of the health care charges will be catered for.
Below is how you can go about applying for your 2016 Medicare plan online through Humana.
1. Begin by visiting Humana-Medicare.com, the Humana Medicare website.
2. Enter your ZIP in the box provided and hit Go.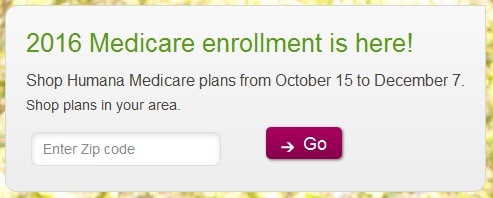 3. Select that plan which meets your needs and begin the enrollment process.
4. Fill in your names as they appear on your blue, red or white Medicare ID card, the effective dates and continue till enrollment process end.
Liked this article or found it helpful? Share it with your friends using the social share buttons below and or post a comment to let us know your feedback or any addition using the comment form below…