How To Get And Enjoy Free Internet Access From Coca-Cola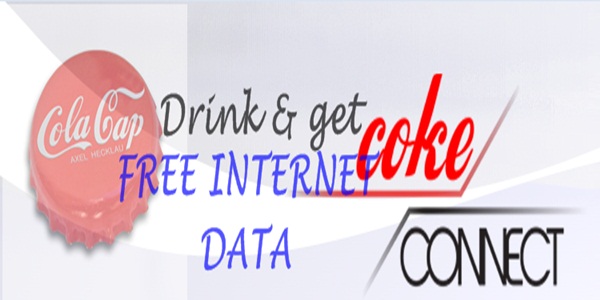 The free-data Offer is Back as of 2015 – keep reading!! Also known as MTN Coke Connect, Orange Coke Connect and Airtel Coke Connect, this is real free Internet for you. Coca-Cola is one of the leading beverage company with operations in the different countries across the whole world and is known for its products including but not limited to Coca-Cola, Sprite, Fanta and many others. And as a reward to its customers and those who enjoy their products, Coca-Cola has an ongoing offer which is known as the Coke Connect, a service which gives internet users free access to a weekly internet provided one buys a Coke products and retrieves the number code which is located under the crown or cap of the above mentioned.
Regardless of the number of caps with codes, any internet user can get free internet once he or she does log in to the Coke Connect website and activates the code using the procedures as you will discover below and here we go.
The Coke Connect promotion is back in season 2 and you can find details on How to enjoy the free 10 mb data
1. Visit the Coke Connect website..
2. Click on Register and enter all the required details which must be valid.
3. Check your email address and confirm the verification message from Coke Connect.
4. Now log in using your email address and the password you specified during the registration.
5. Go to the redeem page and enter the code you got from under the cap of the cola product.
6. Click Redeem and you will successfully get free internet to surf for free.
Supported internet service providers include but not limited to Orange, Airtel, MTN and any other as specified by the Coke Connect service.
UPDATE 1/11/2014 : The Coke Connect promotion is back in season 2 and you can find details on How to enjoy the FREE 10 MB INTERNET HERE