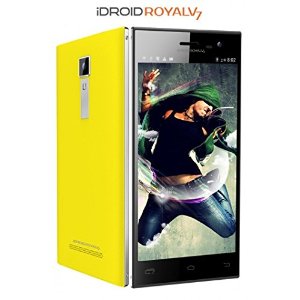 Yes, its the iDROID Royal V7 5.5 Smartphone Review. And for you have been looking to know this device's specifications and features, this has it all. Made by iDROID USA, this device has made and continues to make a name in the world of gadgets. I admit that I love this as well and couldn't wait sharing with your every bit of detail about it. May be, it will help you make a choice on whether to go for it or even for the Tango A5, or any other of your choice.
Just like you hear or read them on TV commercials and papers, right here, you will read them live from the number one to the last feature.
Lets look at the different features and specifications including its operating system, RAM, ROM and others you might be interested in.
The iDROID Royal V7 5.5 Features + Specifications
" – Quad band 850/900/1800/1900 / 4G HSPA + 21MPS 850/1900/2100Mhz
– 4G Ready Smartphone
– System of Chip: MediaTek MT6582
– Google Play Store
– Wakeup Gestures / Air Gestures
– Front and back cameras
– Selfie 5MP and 13MP rear with two flashes
– Sony Exmor camera-chip
– Video Recording @ 1080P /
– Video resolution 1280 x 720 pixels / 30 frames per sec
– Auto-Focus
– Image Resolution: 3264 x 2448 pixels
– 5.5" IPS Multi-Touch screen
– Resolution: 960 x 540P (WVGA)
– Colors enhanced by IDRO Brite ™
– Pixel density: 267 ppi (pixels per inch)104 ppcm (pixels per centimeter) – Pixel density
Get the iDroid Royal V7 at an Amazing Offer
FREE GIVEAWAY:-
Amazon.com - Read eBooks using the FREE Kindle Reading App on Most Devices
. Click above, enter your email, select new user, enter name, wait, add and finish. It's 100% FREE and a lifetime offer.
– iDro Beast ™ Speakers
– Cortex-A7 Quad Core 1.3GHz processor
– 1GB RAM
– 4G ready Smartphone
– Android KitKat 4.4 OS Google
– 8GB ROM Data
– Max 64GB SD card
– Bluetooth 4.0
– Radio
– Micro USB
– Wi-Fi 802.11 b/g/n 2.4GHZ
– GPS
– iDroid Hub App to Support
– Pre-installed applications
– 2050 mAh battery
– Up to 4 hours of conversation time
– Standby 120 hours
– Dual SIM Cards (Mini & Micro SIM)
– Dimensions: (Height x Width x Thickness) : 121.76 x 68.49 x 7,9 mm
– Weight: 145 gram
– Scratch resistant
– Color: Black
– Included :2 Free covers: Yellow and Blue
– Included : 1 Free Transparent case
– Included :1 Free Screen protector
– Warranty Card"