Is Webanswers.com Currently UP or Down ?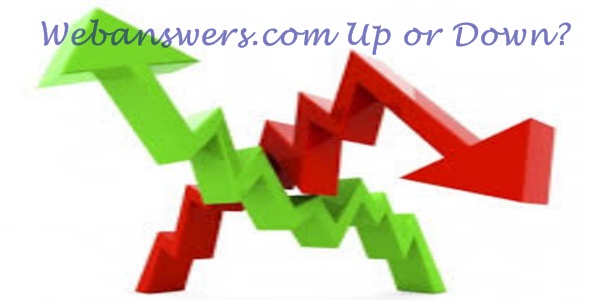 Is Website webanswers.com currently up or down? Is it down for me only or you too can't access the site? Or its down for me only when you and others can access it.
The above questions and similar others are the ones which many of Webanswers.com users have been asking themselves ever since the site begun to be more off than up. This situation has been going on for some time now, and which makes every one wonder what exactly happened. This off and on status is an addition to the different issues the site is currently going through for example the Adsense revenue share.
It's been almost a week ever since I personally saw Webanswers.com on since every time I try out, this is the error I get " Failed to open socket – No connection could be made because the target machine actively refused it 127.0.0.1:9999″. Reading on the different web posts about the same shows that the downtime started long ago but no one knows when this will be solved.
Very many members of the site are going through a state which no any other can tell. Personally, I know Webanswers as a legitimate and paying site I had ever came across. The site has survived so many winds in the past and which makes me think that the current downtime will too be solves.
Leave alone the Bubblews likes which closed forever, I don't think that the same should happen to Wwebanswers. And its for this reason I ask whether Webanswers.com is up or down currently and if you are accessing it on your end, share with us so we know.
Liked this article or found it helpful? Share it with your friends using the social share buttons below and or post a comment to let us know your feedback or any addition using the comment form below...