Media.net! Alternative Contextual Advertising Network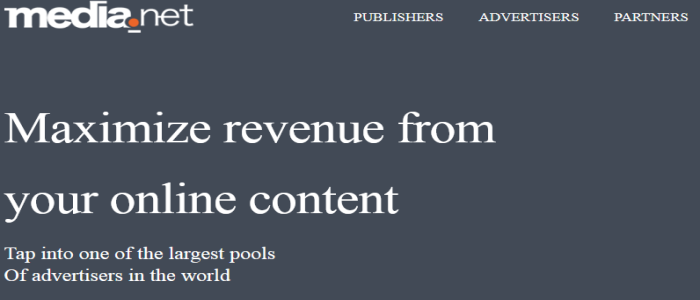 Ever wondered whether Media.net which are also known as Yahoo!/Bing contextual Ads being your best choice when it comes to choosing between the different Advertising alternatives like Chitika, Infolinks, Adhitz, Bidvertizer and others for your Blog or Website as a publisher? Or you are simply on your way to request an invite in order to start serving the above Ads on your webpages? Regardless of what your intention may be, reading this simple personal review will help you to make a choice and decide on what is right for you to do.
Yahoo!/Bing or Media.net contextual Ads is another Advertising network which allows both Blog and Website owners known as Web publishers to effectively and easily earn advertising revenues by ways of displaying the relevant text, sponsored and search related topic Ads on their sites using the self-serve platform which helps in creating and customizing the above Ads.
And according to the information available on their website, publishers are impressed with the fact that they can easily tap into millions of served ads on the different topics which can be used to generate additional revenues on ones website although the BIG question remains Whether Yahoo!/Bing Contextual Ads are worth trying?.
When I was introduced to the Yahoo!/Bing (Media.net) contextual Ads, I felt like I had landed a good income opportunity due to the fact that immediately after Invite was approved, I started earning that same day with my RPM being at $2 daily although this never lived longer since within only a week of displaying their Ads, my website RPM dropped to $0 despite the fact that my website was day by day experiencing an increase in its overall traffic.
When I contacted my account manager on the same RPM issue, he responded to me that it there were some tests on my website to see which Ads would perform better and I was told to wait a few days and see if there was any change. After a few days, I re-contacted him and it was when I knew of how my website traffic had to be from UK, Canada or the US if I was to benefit earn from their Ads, and something which I was happy with since almost half of my daily visitors have their origin from those countries but guess what, this had nothing to do with the website RPM till today.
I took sometime and Googled the different reviews on the same but to my surprise, it looks like the Yahoo!/Bing (Media.net) contextual Ads RPM stays at $0 on most days if not all days and which a guaranteed for a $0 earnings whenever that happens. In fact, I last saw earnings from them at the start of September 2013 and now that it is October with a $0 RPM, I am considering a change of my mind on whether I should even leave the one and only Ad I am remaining with on my site, and that is why this Yahoo!/Bing Ads Review.
If you are one who is planning to rely on Yahoo!/Bing (Media.net) contextual Ads, you got to think twice and or have a plan B on standby.