MoneyRain Reviews! Is Legit or Scam? How it works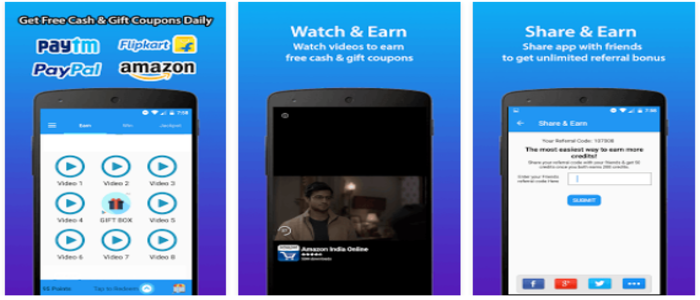 This is Money Rain (Cash Rain) watch and earn app reviews!. If you have been wondering what is all about with this android Entertainment application by Money Rain Labs, whether it is a scam app not to waste your valuable time on, and or a legitimate money making opportunity, how it works and how you can earn from it, this review is all you need. In below you will get to know everything i detail with regard to this MoneyRain app.
Money Rain "claims" to be a a free app which allows one to "Earn free money, free PayPal cash, free Paytm cash, free flipkart coupons and free amazon coupons all from one's Android phone. I know you are already asking yourself how sure this is not so? The answer is simple. Using MoneyRain app, you earn by doing a variety of tasks which upon successful completion, you are rewarded with points which are redeemable into cash.
On Money Rain application, you do tasks like watching 30 seconds videos, participating in the competitions, participate in the Jackpot by investing a small amount, opening the app daily to get daily to get daily bonus points, referring others where you earn 50 referral points for each you refer.
Participating in the above offers is your sure deal of earning more and extra points which you redeem for cash and get paid. Once you click 1000 points you can redeem your points and get paid withing 48 hours using your selected option for example Paytm vouchers, Flipkart vouchers, Paypal cash or Amazon vouchers.
MoneyRain app is free download from Google Play store and other participating sites and installable on all supported devices. After downloading and installing, you sign up for free using your Google or Facebook accounts. Additionally, you can earn free talk time, Mobile data, free mobile recharges.
MoneyRain app site ratings

Is Money Rain app scam or legit? This question being what many of you are interested in finding out, Truth is I can't lie to you. I just signed up for this MoneyRain app and busy doing tasks and earning points. Being an international user, I expect to get redeem my points (which am still collecting) into [[[Amazon.com gift coupons]]] or Paypal cash.
This means that once I get paid, it will be obvious that its legitimate but if not, then scam. All you need is to stay tuned to this page for an update I will post immediately I find the truth…