How To Monitor WebHosting Bandwidth Usage From cPanel
This tutorial is all about helping you learn how to monitor your website, and or blog web hosting bandwidth usage right from your hosting cPanel or control panel. And yes, if your website or blog be it running on Joomla, WordPress, Drupal or any other content management system including those we build from scratch is over consuming your bandwidth, and or you are simply suspecting it, reading this post will help you find out that information you have been looking out for. This option is too in real time management.
And after, I definitely think that you will be able to make a choice between what applications, plugins, modules, extensions and any other you are supposed to keep on your site or blog, and those you are supposed to remove or delete or cease using basing on how each of them uses your allocated bandwidth. It is too very important to note that websites which use the shared hosting plans suffer much every time they exceed their timely allocated bandwidth, and this is why you need to learn and know about this.
But before going further, it is necessary for us to know what exactly is meant by hosting bandwidth right? And according to Wikipedia, "bandwidth is the bit-rate of available or consumed information capacity expressed typically in metric multiples of bits per second. In Web hosting service, IT used to describe the amount of data transferred to or from the website or server within a prescribed period of time, for example bandwidth consumption accumulated over a month measured in gigabytes per month"
Now that you know what bandwidth is, lets head directly on how to monitor your web hosting band width usage by day, by week, by month, by year, by plugin, by application and by any other source you use on your site for example, HTTP, IMAP, POP3, SMTP and FTP. Also, you can check on how to monitor the same using P3 performance profiler plugin by GoDaddy for WordPress sites.
Motoring bandwidth through cPanel
1. Using your Hosting Control Panel log in and account details, log into your account, and go to the site you want to monitor.
2. Click on Bandwidth under the Metrics menu as seen in image below.
3. The above will take you to a page where you will see all band width usage as you want including the current day, past 24 hours, last month, current month , weekly and so forth like you see in the image below.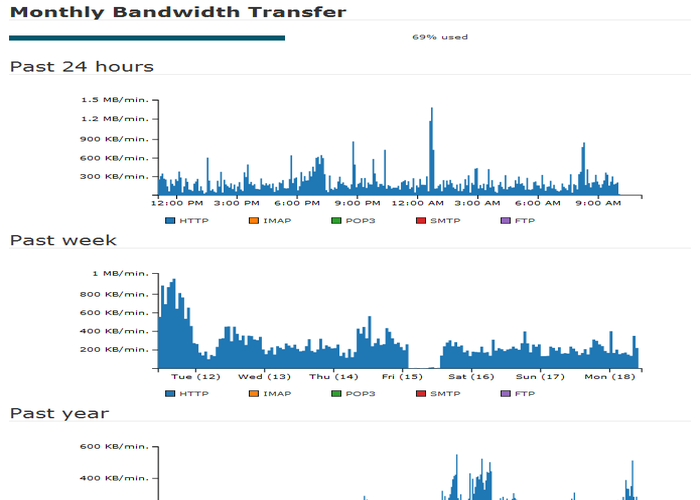 4. Now scroll down and click on the month you want to track and monitor it usage by day and time or hour or minute for example April 2016 and wait for page to load. You should see a list of days right from the 1st of the month to the current day as seen below.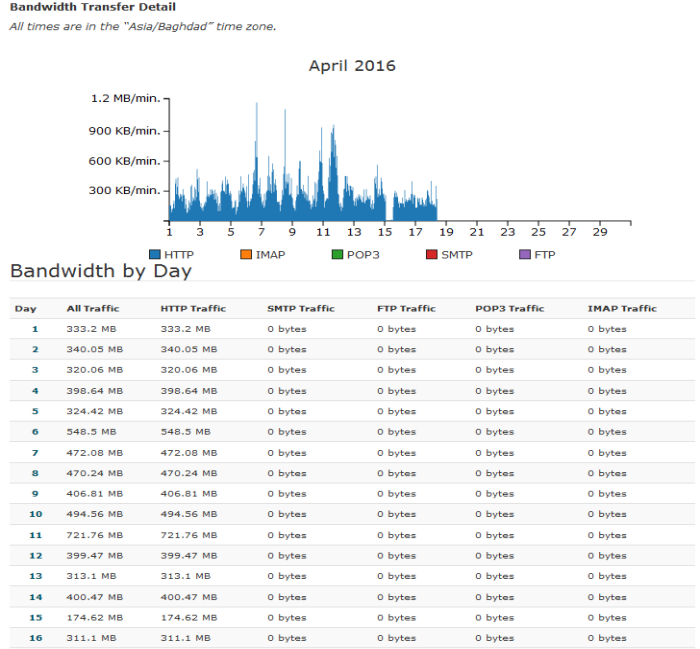 5. Now click on the date of that day you want to track in-depth and wait for new page to load. You should click on the number in the day column for example 18. You will be able to see the current usage and which will help you learn more..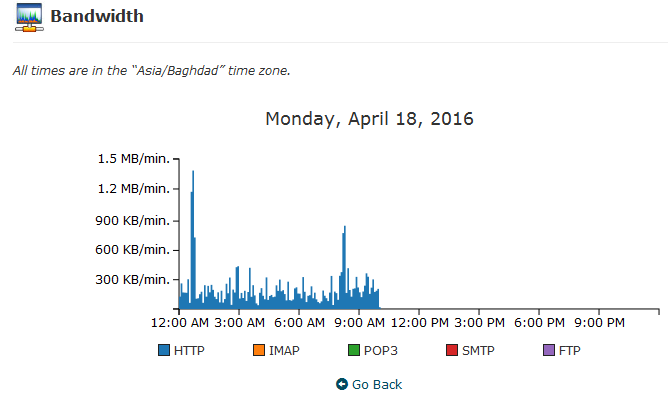 Please note that all the logs you see will be inclusive of HTTP, IMAP, POP3, SMTP and FTP usage of your data. This information can be used to monitor your usage right from the cPanel of your hosting provider.