My Name Is Hailey From Shenzhen OBTPA Company Spam??

Every time I find an email message with contents like, My name is xxx from xxxx company or something related not in my inbox but rather in the spam folder, it makes me hate spam emails, spammers and their entire activities. In fact, the same makes me wonder why a legitimate company or service provider will send unwanted, unsigned for and unsolicited email messages to people and or those who never asked them.
Yes, this is what happened to this email message I got earlier today with subject "public address system" with contents just like you see below. While I can't figure out whether the sender of this email as was addressed "Dear Sir, My name is Hailey from Shenzhen OBTPA company, which is a manufacturer of pa system for 13 years,including power amplifier, ceiling speaker, wall mounted speaker, horn speaker….and accessaries. If anything needed, please don't hesitate to contact me", is legit or not, the fact remains that this was an unwanted and unsigned for email message I got.
The sender addressed me as Sir, yet I am a miss – can't see that? This is a true sign that whatever the case was, Hailey from Shenzhen OBTPA company doesn't know me personally, and or from any online sign up. Firstly, I am not into public address system and nor do I anyone who deals in such. All I know is that I am me and the real me in me.
Don't mind? See what the details of the email were as screenshot below.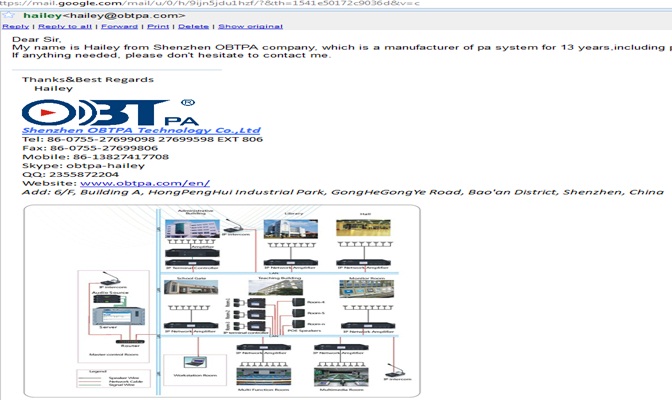 Sending promotional messages through email, and making the land in the spam folder of the receiver automatically is a sign that you are not legitimate – I hope the company which was mentioned in the email doesn't know anything about this but if they are, then its so sad to promote something legitimate using spammy ways. For whatever the case, these emails sent to my spam folders are not called for and nor required.