No More Bulk Tweeting Via TweetDeck Multiple Accounts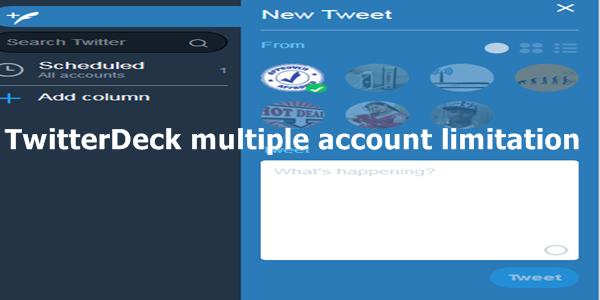 Coming in from Twitter is the "banning of bulk tweeting on multiple accounts" which includes limiting the posting of identical or substantially similar content to multiple accounts. If you hadn't known yet and or wondered why there was a limit on your favorite apps including Twitter's official TweetDeck service, oh yea, this post will help you know why.
In Feb 21, 2020, 1:37pm EST Twitter blog post titled "Automation and the use of multiple accounts", some changes were highlighted including guides on how to safely use Twitter as well as their "TweetDeck and the Twitter API to limit the ability of users to perform coordinated actions across multiple accounts". This means that Twitter banned Bulk tweeting.
These new rules are already in action and at least I have personally witnessed them after trying to Post an identical post to multiple Twitter accounts via TweetDeck only to be limited to a single account selection. This means that no mass or bulk posting is allowed well as the scheduling feature remains intact but only limited to a single account.
Twitter recommends retweeting a published tweet from a single account on others but whilst noting that this too has limitations. Internet marketers have always used this feature to reach a wide audience by way of publishing a single tweet to multiple accounts but now, this looks to have turned into history.