Notorious Nokia 3310 Whispered To Return 2017 At MWC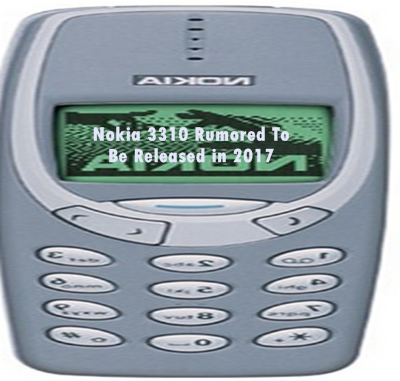 You read it right and is no mistake or error. It is about the old classic Nokia 3310 you know. News leaking from different parts of the Media linking to what has been proved to be a "trusted" source are sharing about the return of the World's once popular Mobile phone "the Nokia 3310". Still remembered by it's strong battery lasting for days compared with hourly capacity for Smartphone, you won't be amazed seeing this device back on the market.
I personally owned this legendary Nokia 3310 back in the days. You too must have owned. My friends and family members did it and guess what, many of all are surprised to learn of it's coming back this 2017. According to the leaks, it is said that "the company will be launching a "rebooted version" of "Nokia 3310 together with other Nokia Android powered OS devices" at the MWC in Barcelona this month.
I know many of you are wondering "who" the buyers of this old classic phone would be with the existence of the Apps supported smartphones? Being honest, I personally can't predict who others will be but I will go buy one for myself. The old unbreakable Nokia phone is remembered for being a rich-in-feature leave alone the ability to create screensavers on ever Bluetooth received images.
I still remember when I used two lines in a single Nokia 3310 handset after buying a supportive back cover. It is was indeed an experience I can never forget. But after dual line supported Chinese made phones came on the market, this all turned into history. I have come to believe that indeed history will repeat itself at one point – and this is what exactly is going to happen once this classic brand is released once again on the market.
Known features of Nokia 3310 mobile phone
Single line mobile
Long lasting battery
Ability to make screensaver off any received image

Countdown time, calculator, currency converter, CB info

Reminders, Stopwatch and Games
SIM free
Alarm clock and custom ringtones made by composer
Where you can buy the Nokia 3310 even right now?
While many people seem to have forgotten about this "tank like" Nokia 3310 phone, the fact is that anyone can still be able to purchase this mobile at a very cheap price. Visiting Amazon's Nokia 3310 SIM Free page will give you total access on what you might want to buy. Why not take a test and get prepared by getting this version as we wait for the Release..Hopeful it doesn't end up being a Hoax..