Obituary For Bubblews.com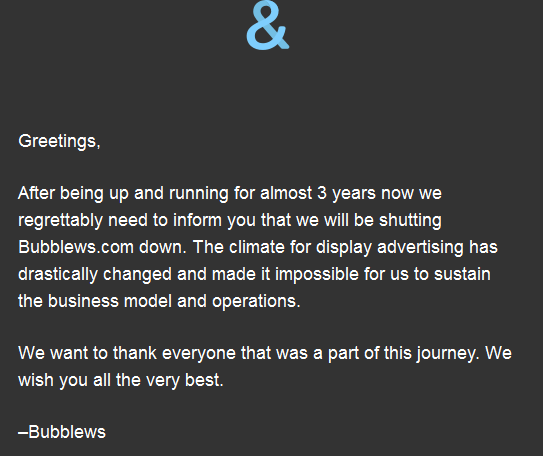 Like they say, even the best dancer retires. The same looks to be the journey for Bubblews.com, a site I can refer to as one of my best old friends when it came to earning online. Bubblews was a great site and indeed a legitimate one during its very first days of existence not until the owners made a rude and wrong decision which saw it fell into an unrecoverable ditch.
For the beginning, every one on the internet talked about Bubblews and how many were getting rich. And through the different positive reviews about the site, many new members were attracted to joining the site so as they could too make a living since Bubblews.com was for the whole world.
This brought in so many people some of whom never knew what to do besides writing whatever which came into their minds, creating rapid likes and comments to others contents and in return receiving the same on their own written since there existed this give me I give you moto.
Not so long after this kind of behavior, Bubblews was full of Junk contents and Junk members who added no value to the site apart from getting paid day by day by the site administration over whatever they had written. But guess what, this did not live longer since the site started reporting too many payment redemptions and in cash when compared with the total earnings the site had made in the same given time frame.
This triggered the site owners to introduce new redemption rules from starting from increasing the redemption amount, the number of days between redemptions, the payment waiting time, county specific user rules, the earning options and ways and very many others all of which seemed to not favor the members of the site.
Sooner than later, Bubblews.com found it had to pay all of the past member redemptions with claims of going to pay sooner not until everything looked like a scam on the members side. Many of the members sweared never to write again until Bubblews had paid all of the pending redemptions, and a thing which led to the site being neglected by many active members to the ones you see as of today. The internet saw many Bubblews payment helpers including the instant payment bot but which were all fake.
Personally, I agree, Bubblews.com cheated me more than $2000 in total and until today, I still recall this experience. It should be recalled that Bubblews introduced its App Sweeble, and which I am even not sure whether it worked or not. Mr Arvind, I will always remember you and your eChecks.
Liked this article or found it helpful? Share it with your friends using the social share buttons below and or post a comment to let us know your feedback or any addition using the comment form below…