Obituary For WebAnswers.com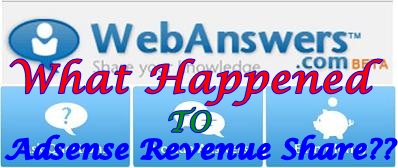 It is hard to bid farewell to an old friend. Members who participated on WebAnswers had a special connection with each other as they shared their wealth of knowledge with visitors to the site. The site concept was born in 2002 and officially launched on November 17, 2007. Although the site owners have not officially pronounced the death of the site, all online evidence appears to say the announcement is due.
WebAnswers.com was a legitimate way to earn money online via a connection with Google Adsense. From the start, the site enjoyed growth for several years before introducing a referral program in 2011. Although response to the referral promotions was successful, it brought in an element of very low quality content that apparently contributed to the demise of the site. The site has suffered a long bout of low quality content, frequent software problems, downtime and ad disruption since the introduction of the referral program and never recovered.
Unfortunately, many older members thought that the site owners neglected to offer ongoing guidance to help the members get the best out of the site. Many instances could make one understand that indeed, what members thought was true for example, The site FAQs pages and site blog were terribly out of date, the newsletters offered at signup were never produced and the only guidance offered in online question and answer threads came from other members whether they knew the answers or not. Most did not know what they were talking about and that was what new members relied on for guidance.
Many have asked about a mobile friendly version of the site over the years. Although the site owners remained silent, speculation from several members described anticipated problems with low quality content rife with text speak abbreviations as a primary reason it would never be made available.
Unfortunately, Google released Mobilgeddon in April 2015. That was a site review that quite specifically deindexed site content that was not mobile friendly in favor of content that was determined to be mobile friendly. As of November 1, 2015, a bigger percentage of WebAnswers appears to have been deindexed, and it too appears it is nearly entirely because the site did not meet those Google standards. Once deindexed, content does not appear in any search results. No customers can find the content and that means no one can click any ads to earn revenue for the members. Revenue fell to near zero for everyone.
There was a law passed on the European continent that required webmasters to explain what their site cookies collected and to offer visitors an option of accepting the policy or leaving the site before cookies were placed on visitors' electronic devices. Although it did not apply to websites based in the US, Google decided to require all websites that use Adsense to comply with that law. Google notified all webmasters in August and set a deadline for compliance for September 30, 2015. It appears WebAnswers did not meet that deadline and all Adsense accounts stopped earning from the site when that deadline passed.
The frequent down time became a critical problem beginning September 2. The site was mostly down for most of the next two months. The site was moved to a new server on October 1. It happened to coincide with the Google deadline for compliance with that European cookie law and many members thought the disruption was related to the server change.
Unfortunately, there were added problems with the new server, including very slow loading of content and continued but different reasons for ongoing downtime on the site. The site went down for the last time (as of this writing) during the evening of October 29 and has not returned.
It appears the end is here, or at least imminent. It is the sad ending of an era. WebAnswers.com is gone, dead, ended, and will be missed by all who enjoyed participating on the site.
We invite past members to post comments on your favorite memories of your time on WebAnswers as an enduring ongoing memorial for our old friend. It will be missed.