Pope Francis Already In Kenya – The First Visit To Africa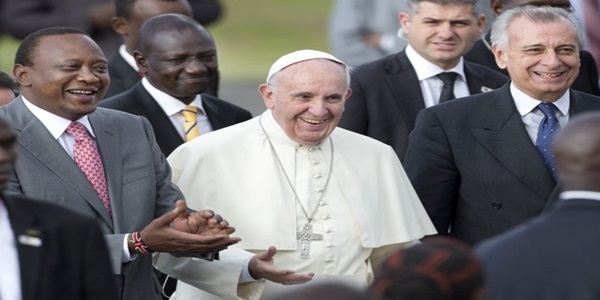 Crowds and crowds were witnessed on all Kenyan roads where Pope Francis passed on his way to the Presidential house where he was hosted. This being the very first leg of Pope Francis in Africa and Kenya being the very first Country to be visited, Catholics and non-catholics were all filled with Joy.
Having been waiting for this day ever since plans for this visit were made months back, yesterday was a great day to remember, and to live in memories of many Kenyan national just like it is expected in Uganda being his next trip come Friday evening,i like it's always been for all countries where the pope has visited.
Received by the Kenyan head of state Uhuru Kenyatta, wife and many others, Pope Francis was escorted to State house where dinner has been organized by the host.
Interestingly, Pope Francis Spoke "Kiswahili", the Kenyan official language, a thing which sent listeners overwhelmed. Next the pope will be traveling to Uganda where as already confirmed, all preparations are almost done.
Liked this article or found it helpful? Share it with your friends using the social share buttons below and or post a comment to let us know your feedback or any addition using the comment form below…