Review of PST Merge Utility
Being an active user of Outlook, it's obvious to come across the issues of managing PST files. Often users have data spread out in different items of multiple PST files. Managing a lot of PST files really becomes a hefty task for users. Therefore, pertinently integrating the items from various PST files is one way out which can help users locate a specific information easily. Are you honking around solutions to manage the files in a proper way? Well, now you need not worry more about it. Here, I do have a recommendation for you from my featured picks and that is PST Merge utility. Let us go, through the essentials of how worthy it is to make into the list of the buyer's guide.
It's not a tricky application which generally commands users to go with it safely. Rather, it has a simple and easy-going interface to guide even the non-tech savvy users through it reliably. And what's more appealing is that the PST merge application's UI skin will ease of all your apprehensions of using a third-party solutions and this catches the user's mind totally off-guard.
Download and Installation
Download the application from the website of MS Outlook Tools and the download link is mentioned below http://www.dl.msoutlooktools.com/setup-pst-merge.exe
With its latest version 3.2, it has looked forward to assuage users with the most appropriate solution for managing PST files effectively.Armed with incredibly powerful specs, it occupies a size of 7.6 MB on of your disk space on the system. It runs with almost all the versions of Windows and even with the latest one Windows 8.1. The unit which I got to test is the licensed version of PST Merge application
Enter
your email, select new user, enter name, wait, add and finish all using this Free.
From the specs it is almost clear that what kind of competitive performance levels, it can offer when compared to other devices of its range.
Have a Close Look-on
The PST merge tool basically allows users for merging PST files competently by providing an array of option for simplified management of PST files. The different options for merging files come as handy for users while executing the process of consolidating PST files.
Exploring the Functionality of Application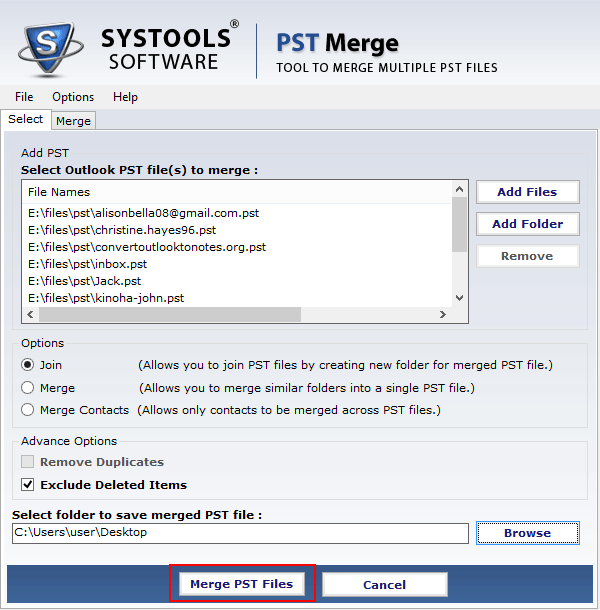 Let's have a look at the notable attributes of the software. We can evaluate its performance angle and how it offers top of the line performance in an unbeatable form
Different Options for Merging PST Files
You have three different options for integrating PST files. The ways are mentioned below
Consolidating Various PST files
Merging various PST files
Merging contact folders away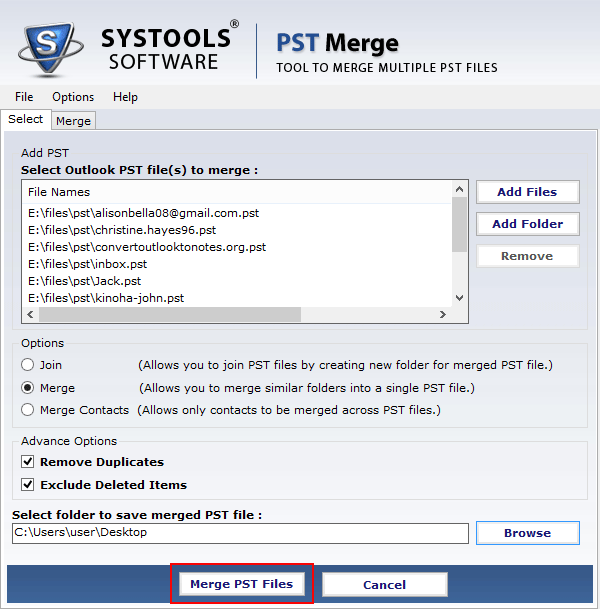 The elusive combination of the merging features presents us a powerful pack features and definitely comes as an enticing offer for users to give a trial. Let us have a look at how it functions
Consolidating Various PST files
You can join two or more PST files and create a new folder for the integrated Outlook PST files. Here, you have the option to either join all the PST files to create one common PST file where each PST will contain its own data in their respective folders.
Merging Various PST Files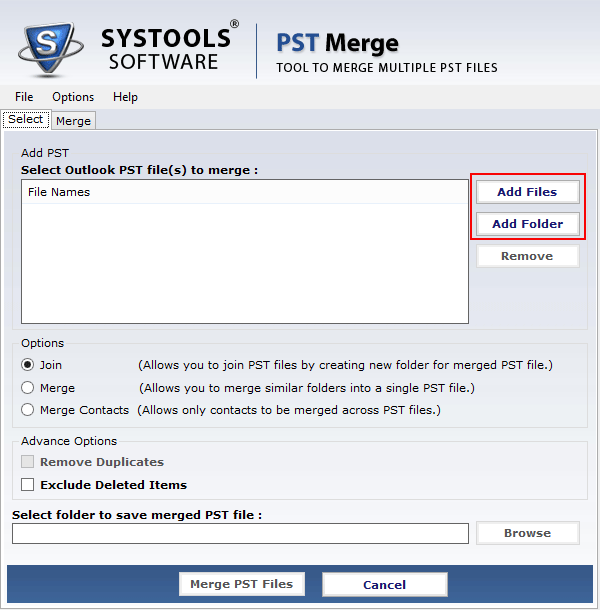 You also have the option for consolidating all the same folders from two or more PST files into a single PST. You have the facility for merging the corresponding folders from several PST files like inbox, drafts, outbox, etc. into a single UNICODE Outlook data file.
Merging Contact Folders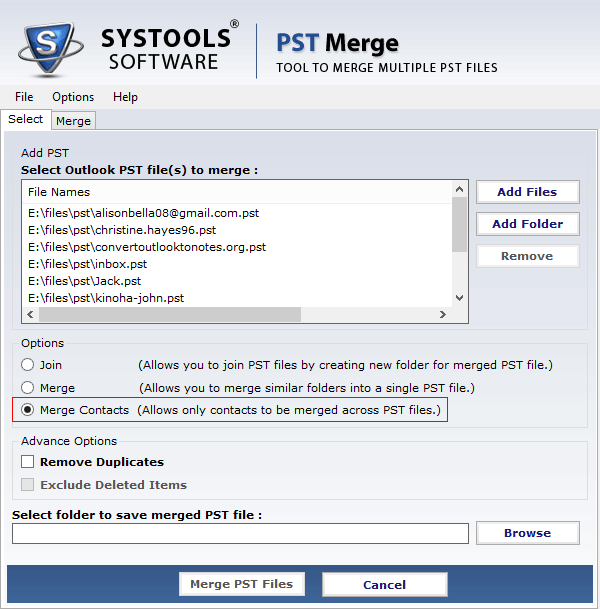 Here,the device has defined new options for merging only the contact folders. You can consolidate the contact folders present across multiple PST files into a single PST type. On merging the contact folders, it takes into consideration to keep all its data elements like name,numbers,email-address everything unchanged.
Elimination of Duplicate Items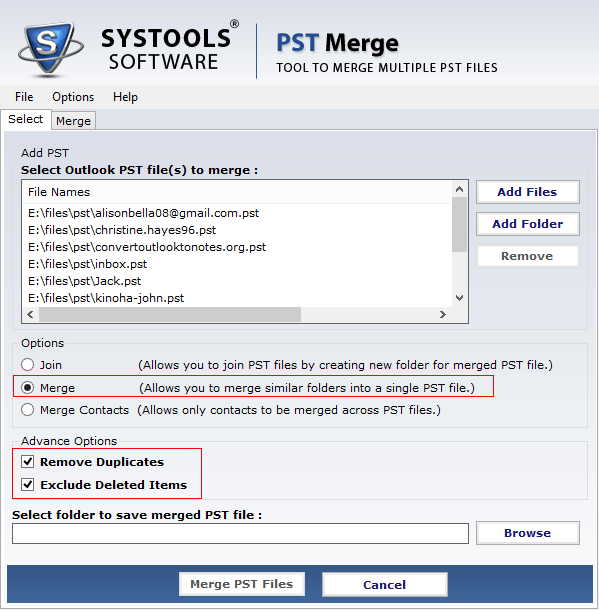 The application provides an advanced option for removing the duplicate items while consolidating several PST files. For this, users have to enable the option "Remove Duplicates" and on doing this the software will ensure to eliminate all the duplicates while you are performing merging by keeping the output generated PST free from all the duplicates.
Add Folder while Merging
For merging PST files,you don't have to add each and every PST file manually. The merging utility provides the facility for adding several PST files in one instance and all this process carries out in a bulk process. However, if you are interested to add files individually, then choose the option "ADD files".
Leave Out Deleted Items
The software extends out the facility for excluding deleted items when merging the PST file. For this, a user has to enable the option 'Exclude deleted items folder". If the user wants to keep the deleted items, then they can uncheck the option.
Get a Summary Report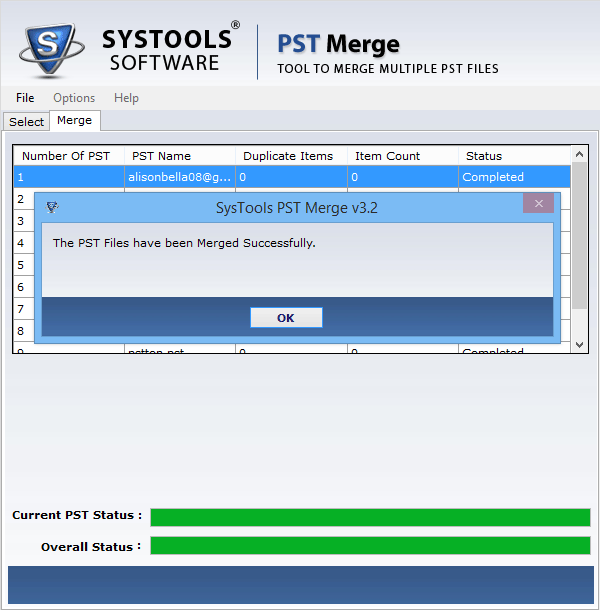 Once you start with the merging process, the software will show users the progress status for the merged files. On completion of process, you will get to view a summary report where you will have all the details like the total count of items, the exact amount of duplicate items found while executing the process and so on.
Free Trial & Testing
To have a look on the functionality and performance aspects of the tool, you can download the free trial version. However, the demo version puts on certain limitation which are enlisted below.
Join PST: will join the first 2 folders of each PST file.
Merge PST: will merge only the first 15 items present in each folder of PST files.
Merge Contacts: Will merge only first 15 items present in every folder of PST files.
Wrapping it up..
For users who are looking for technologically advanced features will find the Merge PST Files application to be an alluring offer. What is quite apparent is just how vibrantly it works out in managing the PST files effectively, and how it offers different options for integrating PST files to suit the requirements of a wide range of users. Obviously, one of the biggest point of focus with the tool is how the tool provide you to eliminate the duplicate items which unnecessary creates a lot of hedge during merging process.
Liked this article or found it helpful? Share it with your friends using the social share buttons below and or post a comment to let us know your feedback or any addition using the comment form below…