Sweeble – The Long Awaited iOS and Android App By Bubblews LLC
Sweeble is the new iOS and Android devices supported application by Bubblews LLC. The Sweeble-application which is soon to be officially launched looks to be one of the long awaited products which has seen its way out at a time when many Bubblews users are wondering what next is to follow when comparing how things are currently.
People love new things for as long as they are of some benefit to them and so to this new Sweeble application which many think of being the tear-washer to whatever they have gone through with the Bubblews social sharing platform on the payments side.
On the internet are so many posts about Sweeble with the different people sharing different thoughts about what it may be since there are no official news yet about what we should expect just like Arvind, Bubblews CEO shared as seen below.
I am excited to announce that we will be releasing a mobile app called Sweeble! Unfortunately I can't give out too many details, but we do have a splash page where you can enter your email address to be notified when we release!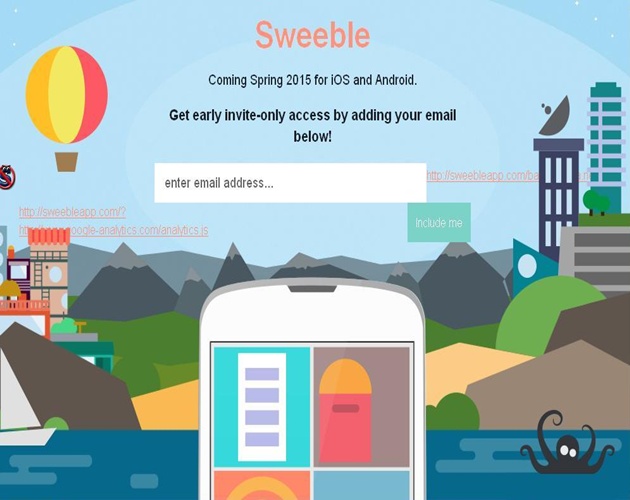 This application is an invite only and is set to be launched officially during early 2015 and which we are in already as shared on the same post by the CEO.
You will also have the ability to invite your friends to the pre-registration. Those people that invite the most friends to pre-register will get a chance of early access. Sweeble will enter a slightly different market and medium for expressing oneself to the digital world. This product solves many issues that we feel other relatable mobile applications have failed to address. This mobile application will not interfere with your experience here at Bubblews – I'd like to state that it is a separate product. If you have followed my posts in the past, I have always said that we will continue to innovate Bubblews and new products that we feel keep the spirit of our social mission and change old ways of thinking. We are supremely excited to get this into the hands of the people. I can't even describe in words how awesome it is.

We have taken everything that we have learned (both good and bad) about Bubblews in the past 2 years and have integrated this knowledge to build out Bubblews & Sweeble into two very fun products. Bubblews, as a writing platform, is still a major priority for me. The upcoming changes to Bubblews will consist of a more stable platform (less errors), some of the features that you all have suggested and of course a sustainable business model that ensures this ecosystem can strive forever.
Even at this time when many think differently of Bubblews.com future, the CEO still stands deeper to it on how his site still remains the best as quoted.
It made a lot of us happy to read that many of you feel Bubblews is STILL the best place to write…period. Those types of comments and posts are our motivation. The keyword is writing. Bubblews is a place for people to write, read and interact with people that have similar interests/experiences. The reward, or compensation, for social interactions was always an underlying 'bonus' and social mission for us – a second thought. We are super excited to get the improved Bubblews out to you all. We think that you all will really enjoy it and appreciate how much time and dedication we put into everything we do.

We thank those who continue to support Bubblews. They do this by staying patient and giving us time to improve Bubblews based off what we learned and suggestions from the community. They also do this by allowing us to venture off into other markets through new products that we create. You are supporting innovation. No idea is perfect. Or ever will be perfect. There is no formula for perfection. The search for perfection is a never-ending story. All that we can do is continue to be better by compounding the knowledge we gain from trial and error.
Hmm, may be we got to wait and find out what Sweebleapp will bring to us. Since pre-registration is open, how about joining and waiting?
Liked this article or found it helpful? Share it with your friends using the social share buttons below and or post a comment to let us know your feedback or any addition using the comment form below..