Tecno L9 Plus Reviews, Specifications and Price in Uganda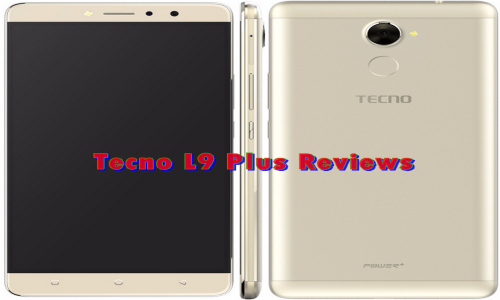 With the Tecno L9 Plus being one of the hottest new releases by Giant Tecno this 2017, I have reviewed this smartphone device for you, highlighted its full features, specifications, cons, pros and average pricing in Uganda, Kenya, Tanzania, Nigeria, Rwanda and etc. If you ave been searching for a comparison on which hot full features mobile device you should go for this year 2017, then this is one you might consider adding on the checklist.
With majority of you out there using the internet and social feature including Whatsapping, Facebooking and etc, the need for owning a high capacity battery device is vital and has become a need. This Tecno L9 Plus android smartphone features a whopping 5000mAh capacity battery which is one reason for you to say bye bye to daily phone charging.
Confirmed features of the Tecno L9 Plus Android Mobile
Operating System: AndroidTM 7.0
Processor: 1.3 GHz Quad-Core
Network: GSM/WCDMA
Band: GSM/EDGE: 900/1800
WCDMA: 2100″
Dimension: 162*81.8*7.99mm
Display: 6.0″ IPS Touchscreen
Camera: 13MP AF Back Camera with Flash
5MP Front Camera with Flash
Memory: 16GB ROM + 2GB RAM
Expandable Micro SD, up to 32GB
Connectivity: GPS, WiFi, BT, OTG
Sensor: G-Sensor, Ambient Light Sensor, Proximity Sensor, Fingerprint Sensor
Battery Capacity: 5000mAh (Typ)
Color: Sky Gray, Dark Blue, Champagne Gold
Taking the the Tecno L9 Plus' beauty aside, this device is made for those who love making things the way they want them be. It is powered with Android operating system 7.0 TM, one which allows a user to customize preferred setting as per choice, ranging from notifications to everything all in a fresh new OS.
Wondering if you still need to order for a high quality camera owning this device? I would say no for reason being, the Tecno L9 Plus comes with a 13MP AF Back Camera and a 5MP Front Camera all with Flash support. This only is enough to help you take your photography love from the starter to professional level.
The multi network and band feature featuring both GSM / WCDMA, 900 / 1800 / 2100 is enough to tell what connection speeds you are likely to enjoy when its time to surf the web or even connecting with your social application choice. This is supported with the connectivity options including GPS, WiFi, BT and [[[OTG]]] which makes an overall user experience better than one can imagine.
This [[[Tecno L9 Plus]]] device supports both G-Sensor, Ambient Light, Proximity and fingerprint Sensors which all makes it an easy to use device. With these features, you are able to use your device in any angle of choice. You are able to use the fingerprint feature for example to capture moments of choice with a single tap
Tecno L9 Plus pricing in Uganda and where to buy online
1. Kilimall Uganda – From UGX 520,800/=
2. Kenya – From KES 14907.530
In Uganda, this genuine Tecno mobile smartphone is sold from UGX 520,800 from the different selling shops and points. For those in Kenya, Tanzania, Rwanda and other countries, computing the purchase price is simple. Simply find your exchange rate against the UGX shillings and get the price of this great device.