Time To Make Charging More Easier!-Portable And Double Your iPhone 8/7 Battery Life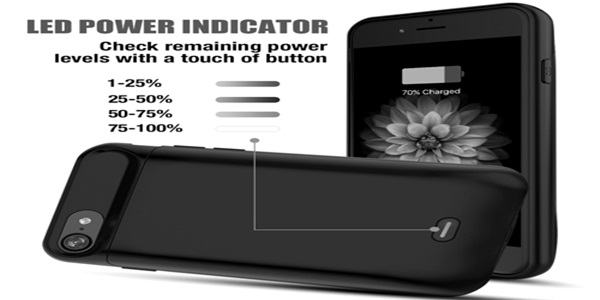 As modern smartphones get smaller and sleeker, battery life enthusiasts are having to make some important choices. It sucks that manufacturers like Samsung and iPhone have shied away from the removable battery, but the next best thing for those if an extended battery case is portable designed.
[[[EUROB iPhone 7/8 portable charging Case]]] is made for you. Specially design in light-weight and portability, attractive pocket-size design is your Best Power Companion On-The-Go! But also built with powerful 5000-mAh high capacity which effectively provide 200% extra batter life to your phone. Do not worry the battery run out suddenly. Just enjoy a comfortable and convenient charging life!
Here are some other outstanding features:
1. SMART DUAL CHARGING COMPATIBLE: Featuring with smart charging technology, charge the iPhone battery and the external battery case via lightning cable simultaneously. Enjoy charging anywhere and anytime.
2. 100% SECURITY GUARANTEE: Besides physical containment, adopted advanced high-density battery cells. Integrated Circuit (IC) advanced technology protects your iPhone from overheating and overcharging. Provide you a safe and comfortable Charging experience.
3. 100% MONEY BACK LIFETIME GUARANTEE: Has 100% quality assurance and provide lifetime warranty. Contact EUROB Customer Service directly whenever you have an issue with product, then you will enjoy a replacement or full refund!
As new released product, now a great discount is provided. Already reasonable $33.99 price will drop to only $20.39(40% off)! Just enter Promo Code: 4FAZ3ZKA. Offer and price subject to change. Here is the link to [[[iPhone 8 / 7 Battery Case]]].