TopShort.net Reviews! Is Scam or Legit?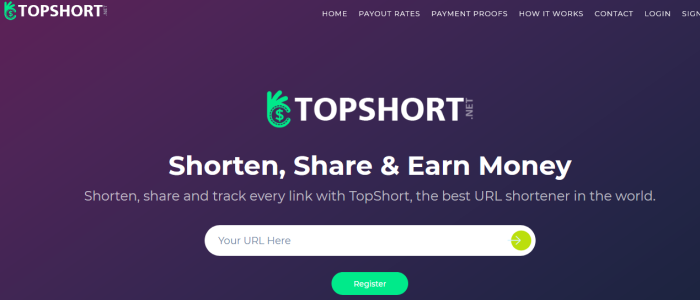 TopShort is a new website in the get paid to world. I have reviewed this site which launched in December 2019 so you can get to know all information in here for those who work at home online. Being  a new website where I created my account and already working, I thought it good to share it with you. If you are wondering whether this website is legitimate and indee pays up to $20 per 1000 views,  or that scam site you should stay far from, keep reading.
Review: TopShort.net
Whois registration date: 2019-12-10
Earning options: Paid to shorten URL
Payment options: Paypal, Bitcoin and Bank Transfer
Legit or Scam: Read full review
What is TopShort.net?
This is a get paid to shorten site which "claims" to reward registered and working members for traffic sent to their shortened URL's. If you know how other url shorteners work, TopShort works similary to the above. Members are paid up to $20 per 1000 views depending on the geographical location of the visitor. The more you get visitors from highest CPM countries, the higher your earning chances.
Ways to earn as a member
Unlike other sites which require you to invest in order to start earning, TopShort.net only requires you to shorten, share and earn. As a registered member of the site, you only need to promote your links to get views and exposure. The more you do this, the more the traffic to your links and the higher your chances of earning. This extra earned cash can be used to boost your earnings from other job opportunities you may have.
How do you get paid?
Paypal
Bitcoin
Bank Transfer
Once you reach the minimum payment threshold amount which is $, you are able to request payment using your preferred payment processor of choice from the list above. You can also create a free PayPal account for fund exchanges assuming you live where the above aren't supported.
TopShort review: legit or scam?
With my few days membership, truth is that, I haven't yet reached payment minimum. Therefore, it is still early for me to conclude that the site is legit , it is hard to conclude that is legit or scam. However, having an account already and doing the tasks, I will be able to find out once I reach payment threshold.
For now, I am still monitoring it's how it works until I make my own request. Until then, stay tuned by subscribing to this post. In case you want to make extra money online, take a look at these top how to make money online eBooks and take your career to the next level.