How To View Joomla Post URL Using Article ID

In this post, you will discover an easier way to get, and or find, and or view your Joomla Post URL using an Article ID. And yes, reading this in full will help you get past the stop you have been encountering while performing, and or trying to reach certain goals and objectives of your Joomla powered site for example, submitting your new post URL in Google search console or Webmasters.
In Joomla just like in WordPress and all other similar content managements systems, all posts are assigned with unique ID's. These ID's are used to to differentiate a post from all others, and which can be used to find the Joomla post URL (the long one). If you have been wondering how you can go about this, the fact is that this post has it all.
Firstly, we will looking on how to use the article ID, and then get the Long URL from the Article ID. This to me means accessing two different options using a single trick. Leave alone the need to find out the article URL which may be returning a 404 error, this way will bypass all of the above and make you view the Joomla Post URL.
How to use Joomla article ID
1. Enter your Joomla site and go to contents. Select new and start composing the article.
2. Under Edit Article on article manager, you will see an ID assigned on your post.
3. Now use this below and replace XX with your article ID on your full site URL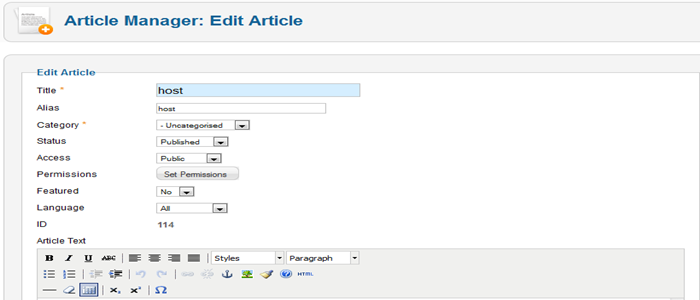 "http://yoursite.com/index.php?option=com_content&view=article&id=XX"
"http://yoursite.com/index.php?option=com_content&id=20"
Once you have arrived on the page using the article ID, simply click on the article or post title and continue to the post or article URL. This will reload the page and you will see the permalink shown under the URL as you can see.