Webanswers & Google Adsense Members Revenue Share – What Exactly Happened 2015? So Far 2016…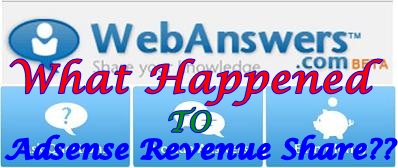 Webanswers is one of the Top websites which created themselves a name for being legitimate and trustable by so many people across the world due to their Good partnership which Google Adsense. And yes, for the recent years, I have personally been a member of this best Google Adsense revenue share site and things have been working and going on well not until of recent when things turned and changed without either of the members knowing what exactly happened in 2015 and what may be going on basing on the fact that the admin side haven't explained anything even after the new year 2016 begun
To be honest, I am myself asking what exactly happened to members ads since they have continued not to display on Webanswers.com despite the two accounts linking status being active to many members with only a few having reported the tie being untied automatically without them doing so
What happened is that the site's default Ads (which to me I hope that its those Ads served from the site own Adsense account PUB) have continued to show while members ads have not been able to show on either of the posts be the awarded answers and nor those posts members have contributed on.
A good number of days down the road (even weeks can still be counted using days don't forget), members have continued to complain of earning those big fat ZERO's and with no single view and nor any impression. And to be honest, this is what I seem to be going through as a member of the site ever since the problem begun in 2015, and now in 2016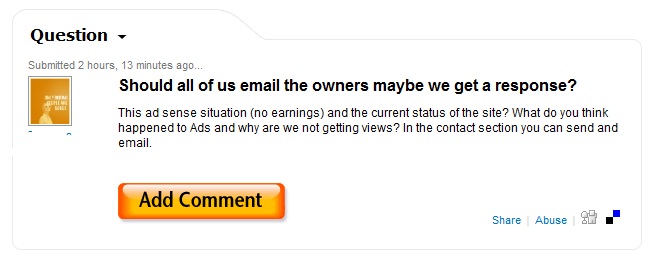 This has made many members wonder what happened, whether the Adsense Revenue share program was suspended or taken down or so. There are so many questions with all having no specific and or an exact answer since there has been no word from the site admin site apart from a few rumors by the site members through their different postings on the site especially in the Webanswers Question and Answer category, Webanswers Support and Webanswers Chat categories.
My Suggestion : As we wait for a word from the admin side, its better to be calm and wait. There might have been some glitch somewhere and or anything which may be being worked on. And or, there may be some changes which might be underway to be announced. All we can do is to wait and see well as this is just my own thought.