Why BKF Files Are Important and How to Perform BKF Files Recovery?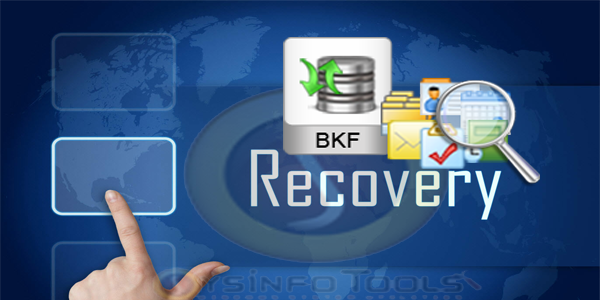 Human lives are now heavily dependent on the computers. It is almost next to impossible to imagine that someone can live without computer or its technology. Computer technology has inspired the human lives in every possible way. Be it an individual or an organization, each one of us uses computers in our day to day life. Over the last decade, computers have improved the efficiency and productivity of work done in order to gain more significance. Computers are designed to store a large amount of information of any industrial and business sectors as well as individuals.
An individual or organization puts a lot of hard work to collect the data. Certainly, the computer data are invaluable for any user. In business sector, computer data and files are recognized one of the important assets of a company. But situation becomes worse here when you face a fatal situation like data loss. The primary reasons for data loss are accidental deletion and corruption.
Just imagine that you are working on your computer system. All of a sudden, the power goes off and unluckily your system shuts down as it is not connected with a UPS machine. After a couple of minutes, the power is restored and you turn on your computer system. Once the system is rebooted, you receive an error message and find that some of your data are inaccessible. This might be a key reason in data loss situation. But having a valid BKF file will surely help you in such a fatal event. Data backup is highly recommended by professionals and data recovery experts. Generally the term data backup refers to the creation of duplicate copies of computer data and files. These copies are stored into a file, which is called BKF or backup file.
Importance of Data Backup
Data loss is certainly costly and unaffordable, not only for businesses or organizations but also for individuals. In business term, data loss means loss of money. Protection of computer data is really very important, and now it has become a high priority. Data backup provides protection to your computer data and files. How? As mentioned earlier in the article that a BKF file stores duplicate copies of computer data and files, those copies can be restored from the file when data loss event takes place. It does not matter what the reason behind data loss is, be it accidental deletion or corruption, you can restore the lost data from the BKF file through recovery process.
NT-Backup utility is a popular freeware tool among Windows users for taking backup. On the other hand, Backup Exec tool is a commercialware tool provided by Symantec (formerly known as VERITAS). Both these programs are used for taking backup and restoring data from it.
Do you know this fact that no computer file is immune to corruption? Yes, you heard me right! Be it any computer file, i.e. document, email, media file or anything, corruption may cause inaccessibility in it. Same thing goes with BKF or backup file. Like other computer files, a BKF file is also prone to corruption.
Causes behind Corruption
Reasons for file corruption are always same, such as: virus or bugs attack, sudden system shut down, hardware failure, hard disk crash, software malfunction and many more. Sometimes human errors are also responsible for corruption in BKF files which include deletion of a file or program by mistake or intentionally, misplacement of CDs or floppies, errors in administrating databases, etc. Be it any reason behind corruption, you will face inaccessibility of data. If a BKF file is not valid, you cannot restore anything from it.
What would be you first step if your BKF file gets corrupted/damaged? You will surely contact data recovery experts. This would be the only thing you can do here. Or, you have one more option! Have you heard about date recovery software? In these days, computer users perform recovery by their own instead of calling data recovery experts. There are many software companies in the market which provide paid data recovery tools. Commercialware tools are also available for recovering data from corrupt BKF files.
Why to choose the best one?
The Backup Exec BKF Repair Pro tool i.e BKF Files Recovery Tool is the highly recommended tool worldwide. It is provided by SysInfoTools Software, one of the most reputed software development firms in the world. The software supports BKF files created by Windows NT-Backup as well as Symantec Backup Exec. Sometimes users have BKF files which are compressed in form or/and split into multiple parts. To perform recovery from such files is a challenging task which is not possible for other tools. But if you try this smart BKF files recovery tool, you can easily recover your data from compressed files or/and the files which are split into multiple files. In some cases, the SQL database files are stored in the BKF files. Users need to restore them from the file. Via this tool, users can successfully restore their SQL database from corrupt BKF files with ease.
Before you can purchase the BKF files recovery tool, you must evaluate it by using its free demo version. In demo version, you can check the preview of recovered data before saving them. If you are satisfied with the results, you can place your order for the full version.