How To Apply For URA Graduate Trainee Program / Opportunity 2016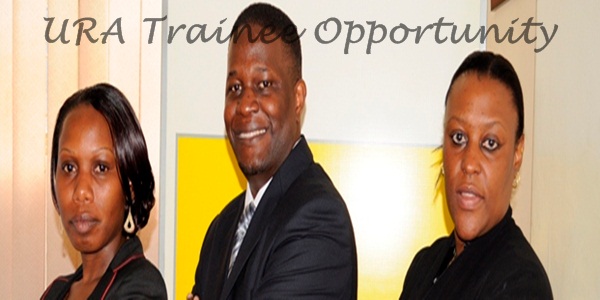 2016 is here, and Iif you are a fresh graduate who is looking forward to maximizing your talents, then you got to read this. The Uganda Revenue Authority has a graduate trainee opportunity/program which is aimed towards helping those new graduates who are seeking for opportunities as a way of maximizing their careers, gaining experience and expertize, becoming professionals through a hands on expertize and others. The program trainee opportunity is intended to identifying those graduates who are talented to be enriched on their skills through hands on job trainings and development sessions which are all aimed at producing an efficient and expertize personnel's.
You must be knowing it well that there are very few jobs for fresh graduates especially in this world where stiff competition is on its maximum in addition to the fact that most employees prefer employing people who know what to do other than those who need to be told what to do and in such cases, that is where gaining an experience and enhancing your career opportunity with programs like the URA graduate trainee opportunities are intended to help you out. If you have an integrity which is proven, are self driven and motivated, have an exceptional energy, have a passion to excel and learn, then its you whom this article is intended to since following the procedures shared will help you to achieve at least part of your dreams and which is seen as a step towards becoming what you want and below is how to get started.
Who Is Eligible For The Graduate Program?
Before starting on the entire process, its good to know and determine whether you are eligible for the trainee opportunity. And in order to qualify, you need to be with the following for example having a honors degree issued by recognized and reputable university, have all of your academic qualifications and documents at hand, having attained at least a Credit in your Ordinary level in both Math and English subjects and not being older than 30+ years.
What Kind Abilities And Characteristics Your Should Have?
In order to quality for the Uganda Revenue Authority graduate trainee opportunity and program, you must have a potential to lead, a high integrity, have an ability to work in diverse areas with cross teams, be customer focused together with a sense of high quality service offering, ability to cope up with challenging/stressful and other related environments, have good skills like the interpersonal, communication and negotiation, ability to work without supervision, innovative and self motivated and very many similar others.
Creating And Submitting Your Application
In order to create and submit your application, you will be requested to follow the simple procedures below after you visit the URA website and click on the Career link or here is the direct link https://careers.ura.go.ug.
1. Visit any of the email service provider whether free or paid ones and create a free email address since its part of the requirements. You can try out www.gmail.com www.yahoomail.com, www.hotmail.com or even send us a request using our contact is page to create for you a personalized email at our domain for example [email protected] (limited to first come first serve).
2. Now visit the URA website provided above and start by creating your account where you will be required to fill in all the required details after which upon successful completion, you will receive an email from URA alerting you of your status and where you will be to start accessing all the site features in addition to logging in to your account. Be that one you always dreamt of in 2016.