How To Fix SIM Network PIN Unlock

SIM Network PIN Unlock is a common smartphone, feature mobiles and modem error which many users tend to experience. This is because of the several reason which may range from the original provider of the phone to network locks. And no matter whether your mobile device is a Samsung, Nokia, LG, Huawei, ZTE, NEC, this article will help you find an easy free solution with regard to having the error above fixed.
If you own a Samsung, Nokia, LG, Huawei, ZTE or NEC mobile phone or modem and currently experiencing this same error of SIM Network PIN Unlock, read on below to find the several alternative solutions which you can use for instant results. This means that following the alternative solutions might help you have your unlock code and calculated freely by your self, and on through your computer and or smartphone for as long as it is supported.
Free Universal Master Pin Code Generator Tool
Yes, this is a free tool which you can use to generate your SIM Network PIN Unlock code for your mobile phone or modem. You simply download this free universal master code generator tool online and run it on your computer. Select your mobile or modem model and type eg Samsung, Nokia, LG, Huawei, ZTE or NEC, enter your device EMEI number and hit the Calculate button. You will instantly get your device unlock and flash code which you will enter in the device prompt and have your device free.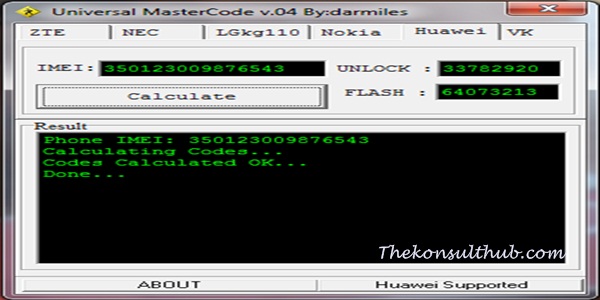 Free Sim Network Unlock Pin Code Generator and Calculator sites
The free sim network code generator and Calculator site can help you fix and have the error solved. The internet has very many such tools which you can try out and get your codes instantly. Many of such sites are instant when you use their tools, while others have a delay period of a few minutes or hours depending on the way you chose eg waiting for an email containing your unlock code. Sites like huaweicodecalculator.com, modemunlock.com, a-zgsm.com, texby.com and many others can be starting points. You enter your modem or phone emei and hit the calculate button.
Have your device unlocked with a computer at a tech service
If you try all of the above alternatives and fail to have your SIM Network PIN Unlock Free, then you should try the paid service from an experienced computer tech provider. You will be charged yes, but your modem or mobile phone will be instant. Just take your Samsung, Nokia, LG, Huawei, ZTE or NEC smartphone or modem to the tech service provider, pay and have it done.