InfinityFree.net Review! Fast Unlimited Hosting With No Forced Ads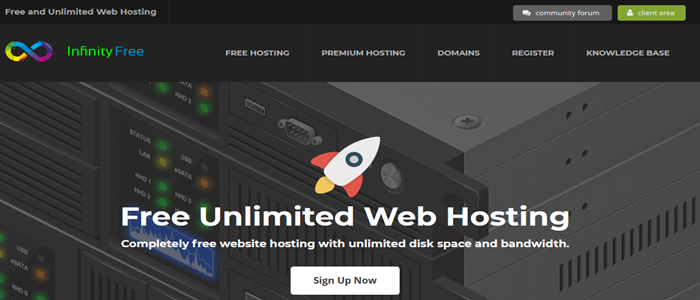 Owning a website has continued to become easier and almost free for anyone who wishes to. From the free domain names which are available online by the different prooviders, the need for a fast unlimited web hosting provider has also increased.
With the many paid and free hosting available to choose from, Infinityfree.net is a choice those who are looking for a free but trustable service provider might want to try out. I am personally using their service to host a few of my clients sites and all I can tell is that they are worth it. I have reviewed their service for those who may be searching for the same so you know what you expect.
What is InfinityFree.net?
iFastNet premium hosting is the provider behind InfinityFree, a free web hosting service provider which has more than 300,000 people using. For over 8 years, they are well known to offering unlimited diskspace and bandwidth, which makes one worry free about going offline after exceeding the metered hits, or even force website sleep like 000webhost does.
Features of InfinityFree hosting
Unlimited Disk Space
Unlimited Bandwidth
Free Subdomain Name
10 Email Accounts
400 MySQL Databases
Free SSL on all websites
PHP 5.4, 5.5, 5.6, 7.3
Free Cloudflare CDN
MySQL 5.6
Apache 2.4 with .htaccess
Linux 3.2
Softaculous Script Installer
Free DNS Service
What you have read above is what you get. Additionally, you get a website with no forced ads and up to 99.9% uptime. You have a choice to host your own domain name registered with any other host, and or to use a sub-domain or buy a new domain name from them. Also, you get free SSL certificate which turns your website earn more trust from visitors due to the known SSL benefits.
How to log in to InfinityFree.net?
In order to log in, you must first register for an account which is also free. All you need is to visit their website and click "Register". You will then fill in your personal information, verify your email address and log in to dashboard where you will be able to add your domain name or pick a sub-domain to use.
How to add a domain name to InfinityFree host
Visit domain registra and log into your account.
Go to DNS and create CNAME adding WWW under host and @ as destination.
Change Namesevers to "ns1.byet.org, ns2.byet.org, ns3.byet.org, ns4.byet.orgn and ns5.byet.org".
Log into Infinity free dashboard and add domain name.
Once your nameservers have propergated, your domain will be added and you will be ready to cfonfigure it the way you want including adding free SSL certificate, installing scripts like WordPress, etc.
What I love and hate about this service?
I love the fact that the service is free of charge yet having features which are unlikely to be found in any other "free service" eg, the SSL certificate. Also, there are no forced ads and no metered bandwidth  and disk space. This allows you to get all the traffic while at the same time storing whatever you can.
On the other hand, I hate the fact that sometimes it the site loads slow. Also, it takes long for an added domain to propergate due to NS usage, whic isn't the case with sites which use A records. The other thing is that making use all other featrures is more advanced kind of which makes it a bit cimplicated especially to newbies.
Verdict
If you are looking for an alternative free web hosting provider, InfinityFree.net is a choice to try out. You can also compare other providers for example 000Webhost Vs Awardspace Vs Byethost. Overall, the service is trusted and a good one to help kickstart your online presence.