How To Integrate Cloudinary Free Image / Video Hosting CDN On WordPress

Cloudinary is a free with an option to upgrade CDN (content delivery network) service provider. And just like you read in my other post where I reviewed Cloudinary CDN and its features, you must have found out that this same service works well when it comes to helping you lessen the load of images from your server, and which not only doubles your WordPress website and blogs speeds, but too helps images to load faster when compared to other sites which deliver images and videos directory from their servers.
In this this tutorial, I am sharing with you how you can easily integrate Cloudinary CDN on your WordPress for videos and image hosting so that you can get the best out of your blog, in addition to helping your readers and viewers enjoy a better experiencing while on your site. Remember, the less the load of your hosting server, the better the performance of your site and the heavier the load, the less the performance.
What does it mean? If you want to make your WordPress site faster when it comes to the time it takes to load, the time images take to be delivered, and to use less bandwidth on your hosting, then installing Cloudinary CDN plugin for WordPress is one of the solutions, I can personally recommend. Below, I take you through the step by step procedures on integrating the free CDN on your site.
1. Log in to your WordPress site using your admin access credentials.
2. Go to plugins, add new and enter Cloudinary CDN.
3. Hit search, wait for results and look out for Cloudinary.
4. Click on Install and wait for the package to be extracted.
5. Hit on Activate, and hover on Cloudinary from the dashboard menu list below settings.
Click on settings and wait for page to load. At this post, you should see the Welcome to Cloudinary message containing the below as seen in the screenshot.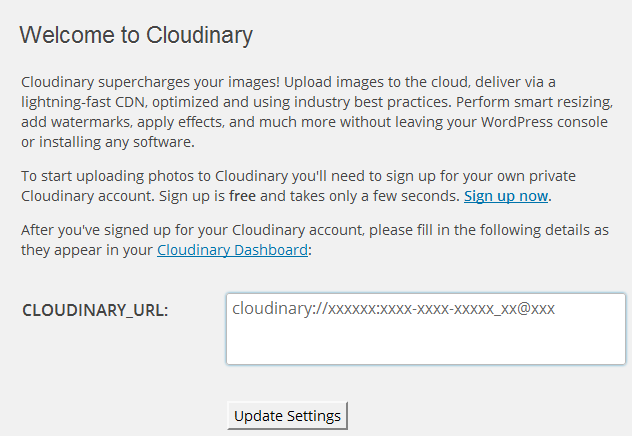 Now click on the sign up link as seen above and heard on the Cloudinary website. Fill in all required details and click on create account. Now you should see an email to your inbox containing information on how to verify your account.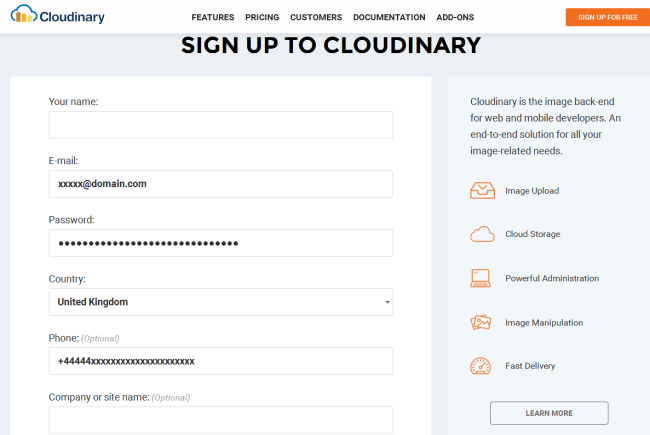 And once you have verified your email address, you should log into your newly created Cloudinary account and follow the below instructions.
1. Look out for Environment variable under details under Dashboard.
2. Copy the URL starting at cloudinary://xxxxxxxxxxxxxxxxxxxxxxxxxxx the very way it is.
3. Go back to your WordPress site settings page, paste the copied text (URL) under CLOUDINARY_URL box and hit on update settings.
4. Go to compose new post or edit an existing post and should see a cloudinary menu added.
When uploading a new image, simply click on that new menu and follow prompts. To add your already existing media in your library, you need to access your media and select bulk and chose upload to Cloudinary from the menu. Very simple and easy to hae your site loading faster than you can imagine.