Best 10 FRP Bypass Tools / APK's for Android
FRP stands for Factory reset protection, a feature available in Google Android operating system smartphone which prohibits unauthorized phone soft and hard resetting. Once one successfully resets the mobile device, without knowing the previous Google account (Email address plus password) in addition to having access to WiFi connection, it becomes impossible for one to use the device.
But sometimes, even real owners may become victims of the above and there requiring the help of such tools and applications which are well known to offering solutions related to the above. In this review, I am sharing with you the best 10 FRP Bypass tools for PC and APK for mobiles working on devices like Samsung, LG, Lenovo for both SPD, MTK, Qualcomm, Xiomi, MOTO, Yuforia, HTC, Macromax and etc.
Please note that owning a combination of the different factory reset tools and applications will be an added advantage since one may work in for example SPD successfully while another may work in Samsung or LG and etc. You are also required to find out how to use the same when resetting or bypassing Google account lock on your mobile.
Best 4 FRP Bypass Tools for Android
Android fastboot v1.2
GSM Aladdin v21.34
NCKDongle AndroidMTK 2.5.6.2
OMH Android v1.2
#1 Android fastboot reset tool v1.2
Features: Android fastboot v1.2 is a PC/Laptop tool is developed and maintained by Mohi KKC. It can be used to do so many functions on your smartphone include removing pattern, removing MI account entering EDL mode, unlocking bootloader, unlocking YUREKA BL, samsung download Mode, remove FRP for SPD, Qualcom, Xiomi, Moto, Yuforia, HTC, Micromax ADB mode and etc.
#2 GSM Aladdin v21.34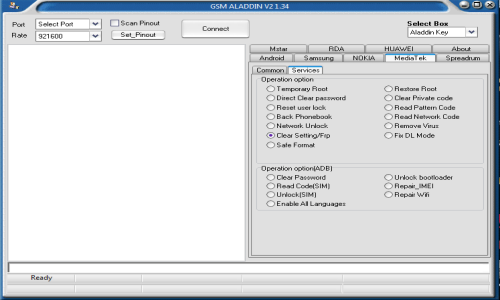 Features: GSM Aladdin is a simple tool for Windows PC and laptop which help users It can be used to do so many functions on your smartphone include reading pattern codes, directly clearing passwords, restoring toot, imei repairing, reading network code, clearing settings/frp, resetting user lock, removing pattern, formatting device, backing up phonebook, fixing DL mode, unlocking bootloader and many others on MTK, Samsung, Android, SPD, Nokia, RDA, Huawei and etc devices.
#3 NCKDongle AndroidMTK 2.5.6.2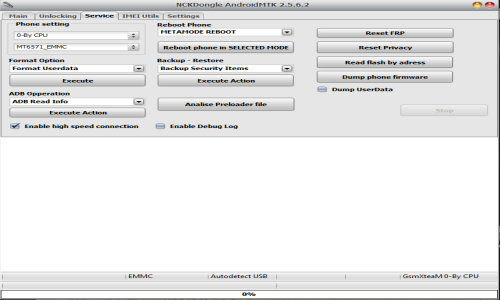 Features: NCKDongle is another great Windows PC / laptop tool for MTK Chipset devices. With this tool, users are able to perform a number of tasks including but not limited to reset frp, reset privacy, read flash address, dump phone firmware, back up security items, format flash, repair imei, read and unlock network locks and codes and etc. It supports almost all MTK devices including Samsung, Android, Nokia, RDA, Huawei, Acer, Avvio, Alcatel, Tecno, ZTE, Qmobile, Orange, Lenovo and etc.
#4 OMH Android v1.2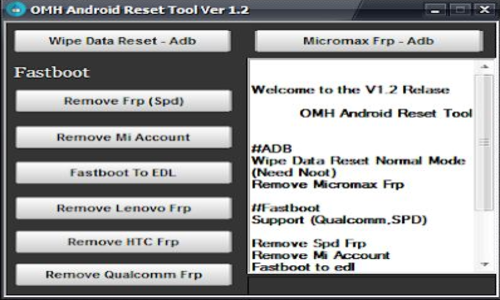 Features: OMH Android is for Windows PC / laptop. With it, you can wipe data reset (ADB), remove frp for HTC, Qualcomm, Lenovo, SPD devices, remove Mi account and do much more intantly.
Best 6 FRP Bypass APK for Android
Pangu-frp-bypass tool
Quick shortcut maker v.2.0.0
Google account login verify
Settings (Development)
Test DPC
Xender
Like you see in the best 6 apk's above, those work hand in hand. Quick shortcut maker is vital when it comes to helping one access hidden menu. Test DPC will help you encyrpt the system there by unlocking it once you reboot. On the other hand, you will need to access settings for all to work. Google account verify will help you input access login page there by inputting your new email.
Pangu  is a great apk when it comes to skipping and bypassing on any mobile for as long as it it is running Marshmallow, Lollipo and Nougat OS. All you need is to follow Pangu procedures and you will be done.