How To Create A Non Gmail Google Account Using Other Email Addresses Like Yahoo, Hotmail..
Wondering how to create a non Gmail Google account and make use of all other Google services? This tutorial takes you through the step by step guide and procedures on how you can make use of all other Google services including YouTube, Googleplus, Blogger, Sites and all others you know without the need to create a Gmail account. All you need is to follow the simple procedures below and instantly get started.
You should note that many services ran by Google tend to require an account to make use of them for example, uploading a Video on YouTube, creating a free Blogger aka Blogspot blog, joining Google+ and etc. This means that for you to make use of them eg creating sharing your content, photos, songs and anything else, you need to have an account. One question which many people have been asking me of recent is whether it is possible for a non Gmail account holder to create a Google account.
With the answer being a YES, that is why I decided to write this post so that anyone else can know the procedures and what it requires when it comes to creating a non Gmail Google account. In below are the different steps one should follow right from A to Z.
Requirements for creating a Non Gmail Google account
– Must have an active email address from any other provider eg Yahoomail, custom domain email, Hotmail and etc.
– Must have full access to your email addresses since you will be required to access it to find verify the link.
– An internet connection on your computer with a web browser. You can too use a mobile device.
Steps and procedures to creating a non Gmail Google account using other emails
1. Begin by visiting Google accounts portal accounts.google.com, and click on "Create account".
2. Click blue link with "I prefer to use my current email address" and wait for page to reload.
3. Fill in all required information including names, email, password, phone number and Hit Next.
4. Read and agree to terms by clicking the Agree button and wait for page to load.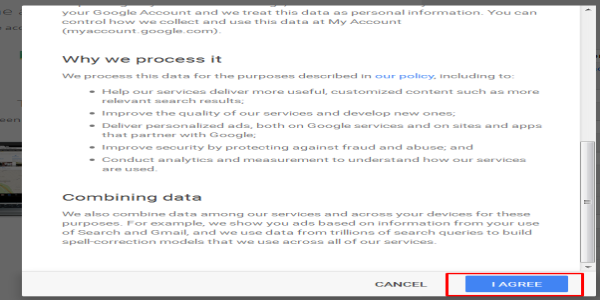 5. Confirm that the phone number you entered is correct, select your preferred verification method eg Voice or Text and click continue.
6. Enter the code you received whether by call or text and click "continue".
You are a step away from owning a Google account using your preferred email address other than Gmail. Now log into your email address (the one you added during form filling) and click on the account verification link. Once you are done, you will be set to go and ready to use your new account for accessing all other services you may have been missing.