VPN Reactor is one of the best online and internet privacy service provider when it comes to ensuring that users are safe. If you never heard of them before, today is your lucky day if you are reading this. But if you have known them already and simply wondering how to create, setup and activate the service on your Windows operating system, then all you need is to keep reading since this article entails every bit of what you need to know.
From a number of email and whatsapp messages many of my readers have sent me inquiring about the same, I decided to write and share this post publicly so everyone else who has been wondering what the right answer on how to create a VPN Reactor account, set it up on your Windows XP/7/8/10 and activate it so as to enjoy the best privacy. Without wasting much time, lets head directly on what you should do and how to go about it.
Requirements for VPN Reactor use
In order to get started, you need to have all of the following below.
A computer or smartphone supported app usage.
An internet connection able to allow you access the web.
A working email addresses which you have access to.
Once you have all of the above in place, you should get started to creating your Free account by following the simple procedures.
How to create VPN Reactor account free
1. Open your web browser and point it to vpnreactor.net.
2. Hit on "Get VPN" and wait for page to fully load.
3. Chose your Plan from the list and hit create account.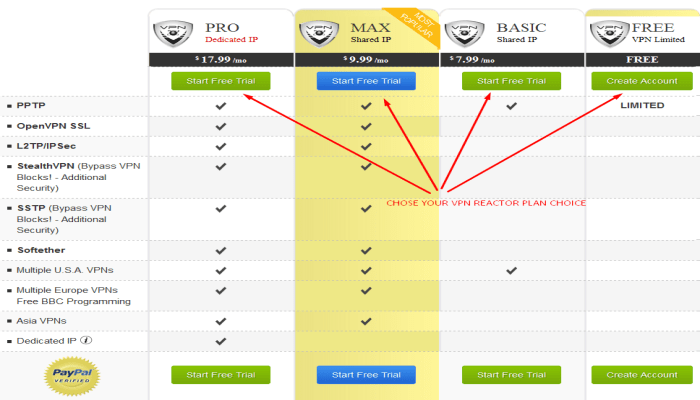 4. In put all fields on signup form and hit Signup.
5. Access your email address, look out for the new email message received and open it.
6. Verify your email, and wait for the next email. Note down your "VPNReactor account" details and head on next.
How to set up and activate VPN Reactor on Windows
1. Now click "Start, Control Panel, Network and Internet, Network and Sharing Center and hit on Set up new connection".
2. Chose "Connect to workplace, VPN connection and hot next.
3. Select "No, new connection and Chose VPN Connection WAN Miniport PPTP and hit Next".
4. Select "Use my internet connection" by double clicking on it.
5. In put your emailed "VPNReactor account" info and hit next.
6. Enter your provided "Account user name and Password" and hit next.
How to go online using VPN Reactor Connection
Success. You are done after reaching the last step. Now you can go to your connection tray, select your VPN name and dial it. Your privacy is now protected as simple as that..