Forumcoin Reviews 2020! Payment Proof Attached

 This is my honest review of Forumcoin. If you have always been wondering whether Forumcoin is a legitimate site worth to spend time on or simply another scam site you shouldn't dare try out, then reading this review will help you find the answer you have been looking out for. I took my time, joined the site and now I am able to share with you my findings.
Forumcoin is a paid to post forum which rewards its members with Forum coins for their participation. Members earn coins per post (articles), per response and per thread created. This means that if you can post from morning to evening, chances are that you will earn lots of points and which can later be converted into real US dollars.
On Forumcoin, your time spent on site is compensated, which means that it's not a waste. Here below I share the detailed facts about this wonderful site (sorry to say this but I know why).
What is Forumcoin?
You read it well above. This site is a paid to post Forum. You are rewarded forum coins for every thread you create, reply you post and article you submit. There is no limit on the number of threads or replies you can create per hour, day, week, month and etc. You have freedom to post any amount. The only limit is on the article side where you can only submit one post every 24 hours.
How much do you pay to Join Forumcoin?
Did I read it well? A friend asked me when I shared with him this very info. He was very amazed to learn that it requires $0 for one to join. In brief, anyone can join this paying site and at a free cost. So you don't have to worry when it comes to joining. All you need is an internet access and a device you can use to log onto your account (computer, tablet, laptop, smartphone and etc).
Which kind of posts are allowed to post?
Except the article section which is limited to Technology, Making Money Online, Business, Personal Finance and Self Improvement topics, the other part of the forum is open to all kind of posts for as long as they fall into the allowed as per rules. Using the different form categories available, you are able to write anywhere of your choice. Please note that in order to become an article write, you must apply.
How do you apply to become an article writer on Forum coin?
Becoming an article writer is one way which will double your earnings. Yes, I am serious about this since it's the same option I use to earn more. Wondering if I am serious? Take a look at my profile here and also join, since its free. Everything with regard to rules of the article Forum are outlined in the same section. In brief, you need to submit a request to the Forum admin who will grant your account permission to write articles.
How much FC (Forumcoins) do you earn per post?
Now this is the interesting part of this review. Many people ask this question over and over. In brief, you earn depending on the Forum you post in since each has its own payments. See image below.
How do you get paid?
Once you have reached the minimum points, you can redeem them for exchange. You can either get PayPal cash, order domain names, get Amazon.com/uk gift certificates, add signature to your account, increase your PM Space or even your username on the site.
Is Forumcoin legit or scam?
First payment proof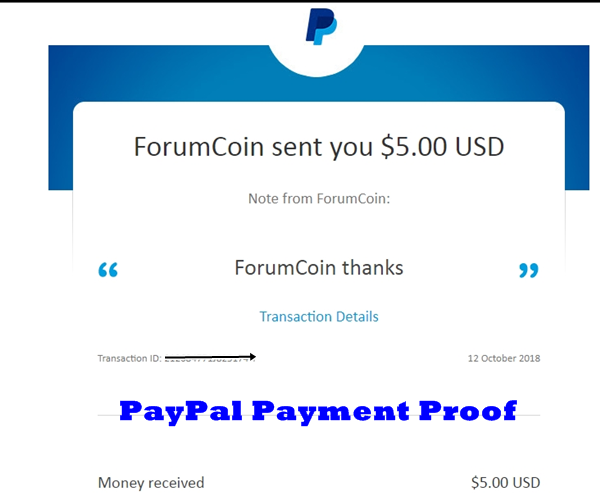 Second payment proof
Forumcoin is a legitimate site. I join this site some months back and took a break thinking it wasn't real. A friend of mine who is working on the same site (in fact one who referred me to it in the first place) shared with me how people were earning. I resumed and within a week or two if not mistaken, I redeemed my points for PayPal and I was paid cash (See above screenshot of PayPal payment proof).
If you really want to make some additional extra, I would highly recommend Forumcoin. You join free, participate and you earn. A very legitimate site I have come across on the Internet. It took a few minutes for my earnings to land in my PayPal account.