How To Read/Send Gmail Messages Through Microsoft Outlook/Express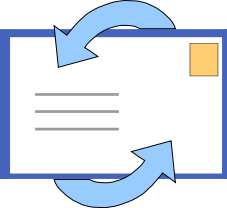 Also known as Accessing your Gmail email account through Microsoft Outlook, this is something which is all about the ability to Receive, Read, Reply, Compose, Trash and do anything you would have done in your Google's free email account through a Microsoft's Outlook. The entire process of configuring the above is very simple but only when you follow the simple procedures and which is the step which many users fail to complete there by referring to the process as a harder one yet its so easy.
In this post, I will take you through the different step by step options which when followed, you will be able to access all your emails without access your Gmail interface but rather using Microsoft Outlook and which is known to come on every installation Windows Operating System and below are what you need to do. But before we get started, you will need to ensure that both IMAP and POP3 options in your Gmail account are enabled, a feature which you can access by logging into your Gmail account, Settings, Forwarding and IMAP/POP and enabling both IMAP Access, POP Download and saving your settings. Once you are done with the above, below are the steps to follow.
IMAP Option
1. Open Microsoft Outlook by clicking Start, All Programs and Outlook Express.
2. Open Tools, Accounts, Add, Mail and wait for Pop Up box.
3. Enter Display Name, click Next, enter your Gmail email address and click Next.
4. Select Incoming Mail server as IMAP and enter the below
Incoming Mail server : imap.gmail.com
Port:Por t: 993
Requires SSL :Yes
Outgoing Mail (SMTP) Serve : smtp.gmail.com
Port: 465 or 587
Requires SSL : Yes
Requires authentication : Yes
Use same settings as incoming mail server
5. Enter your account name, Password and click Next to complete.
If your never saw the Port input options, click on Tools, Accounts, Mail, Properties and enter the above as seen. You can then download all your mails from Gmail to your Outlook and begin the tour.
POP Option
1. Follow steps 1 – 3 above, select POP3 and enter the below
Incoming mail (POP3 or IMAP) server : pop.gmail.com
Outgoing e-mail server (SMTP) name : smtp.gmail.com
Outgoing server requires authentication : enabled
2. Click on Next, enter your Gmail email address, password and hit next.
3. Select Don't download my e-mail at this time on the pop up and click on Finish.
4. Open Tools, Accounts, select the POP3 account you just configured and go to advanced settings.
5. Enter 465 on Outgoing mail and click on OK.
You are done and will be able to read, views, send, reply and do everything using Microsoft Outlook like the same way you would do when logged in to your Gmail. Missing on something? Ask.