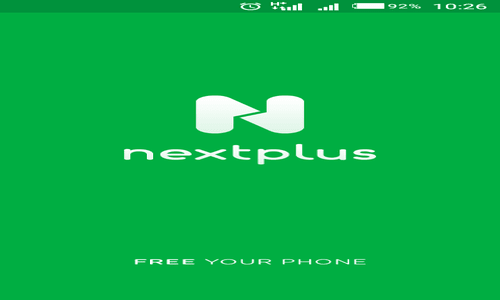 This tutorial is on how to instantly purchase Nextplus calling credits directly from Google Play Store using your saved payment option for example credit card, debit card or bank account. If you are a Nextplus user well knowing it's benefits among which includes access to a 100% free US phone number in addition to offering you the cheapest international calls, then this guide will help you learn how to to up credits instantly.
When I want to make an International call, chances are that I will either enjoy the lowest prices and or make it free of charge all courtesy of my Nextplus free calling application. I am sure many of us would want something which eases life in addition to helping us save. Yes, this is what Nextplus offers you when it comes to calling and texting for example, with .99c ($0.99) only, you get up to 50 minutes of talktime, and which is the lowest prices one can ever get.
In this guide, I share with you how to instantly purchase Nextplus calling credits so you can make full use of this free US phone number application right from your smartphone. And as always, I prefer not wasting much time since I want one to be able to do or learn what exactly made him or her including you arrive onto this post. Follow the following below procedures and get your credit.
Steps to instantly buy (purchase) NextPlus calls credit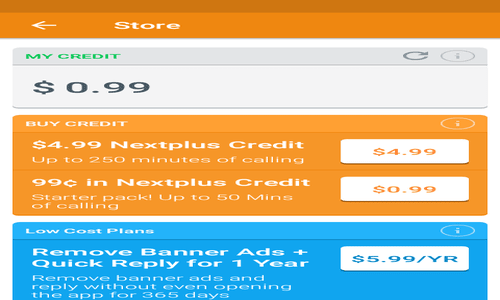 1. Launch Nexplus application and tap profile.
2. Scroll down and tap on Store.
3. Chose the credit option of your choice to buy and tap on it eg $4.99 for 250 minutes or $0.99 for 50 minutes.
4. Hit buy and follow prompts.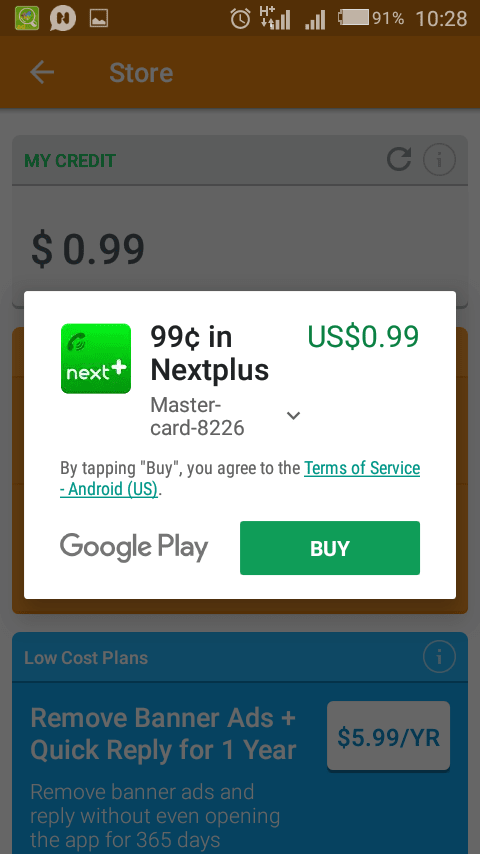 Please note that at this time, you will be prompted to enter your Google account details and select a payment option assuming you already added one. If you haven't added either a credit card, debit card or bank account, then either click on Add still in the app or easily do it using this procedure on your computer.
Upon payment confirmation, you will get an email message from Google Play Store confirming you of the transaction details including the Order number, Order date, Payment method, transaction amount and what you have paid for. The credits will instantly be shown in your application and you will be set to go. That is all you need.