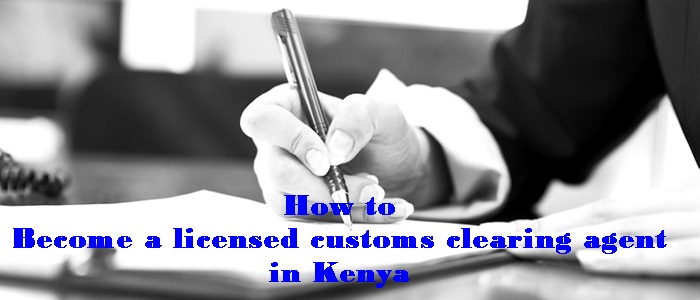 Licensed customs clearing agents have the privilege to carry out related businesses between the client and the revenue authority legally. Just like it happens in other countries where the Revenue body, a government entity takes on the entire process of vetting, issuance, renewal and cancellation of Customs Agents Licenses, the same happens in Kenya where Kenya Revenue authority does take on this process.
If you have been wondering how to become a licensed customs clearing agent in Kenya, this article covers it all including the process, what you need, what is required from you and how to get started. All you need is to take time, go through this article and trust me, you will be ready to become a licensed clearing agent in Kenya since you would have known all it required and what the entire process entails.
Procedures to becoming a licensed customs clearing agent in Kenya
1. New applicants
a) An application for Clearing Agent's License, on the prescribed Form,C20, is made and forwarded to the Licensing officer.
b) Each application is recorded and assigned a reference number.
c) The application is vetted to ensure all the required supporting documents have been submitted.
FREE GIVEAWAY:-
Amazon.com - Read eBooks using the FREE Kindle Reading App on Most Devices
. Click above, enter your email, select new user, enter name, wait, add and finish. It's 100% FREE and a lifetime offer.
Documents required
– PIN certificates for the Company and all its directors
– ID for all directors, VAT registration certificate
– Memorandum of Association, Articles of Association clearly indicating the Clearing and forwarding Agent's firm is a registered business.
– Certificate of Registration from the Registrar of Companies
– Certificate of good conduct for all directors
– Evidence of membership with a recognized Clearing & Forwarding Association (KIFWA). The evidence may take the form of a letter, payment receipt for annual membership fee or a certificate.
– Letter from bankers showing the company maintains an account with them.
– Letter from Domestic taxes Department confirming that the Company and all its Directors have lodged current Income Tax and VAT returns.
– Receipt for payment for the application form.
– If the application was presented after the deadline, the receipt for payment of the prescribed late application fee should also be attached.
Once the above documents have been submitted, the following below will follow..
– Applicants are invited for interview by the Licensing Committee.
– Successful applicants recommended for licensing are notified.
– The successful applicants are asked to pay the required License fee.
– The application is then approved by the Commissioner.
– Clearing Agent's License is issued.
Please note that once the entire process has been completed and customs clearing agent licenses issued, those who were unsuccessful have room to and can make an appeal. A hearing is conducted, after which licensing is either recommended or declined. The entire process is very simple and easy if you follow the above.
2. Renewing customs clearing agent licenses
– Application for renewal of the license is made on the prescribed License renewal form and submitted to customs.
– The Licensing Officer shall check for compliance with the conditions for renewal and confirm that the company has no outstanding transactions or pending queries.
– If the applicant has no pending queries or outstanding transactions, a recommendation is made Commissioner's office for renewal of the license.
– License is renewed.
Point to note in this renewal case is that no License shall be renewed if the applicant has any pending queries or outstanding transactions.