[SOLVED] Delayed / No Push / App Notifications in Android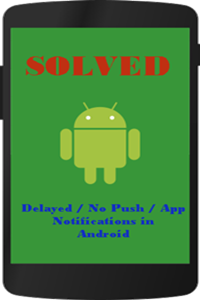 This tutorial is on how to fix delayed / no Push / application notifications in Android devices. If you have been experiencing delayed or no notifications on your device, then this guide is what you must try out as it covers procedures to have this solved and instantly. Like we all know, app notifications are necessary since they alert you of anything for example when a new text / email message has been received.
Before arriving at the 5 alternative solutions shared in below, it is very important for one to understand what is termed as a delayed notification and how such can affect the smartphone or tablet owner. Like we may all know, different apps have different settings and time intervals when push notifications are set to notify for example, setting Facebook to send push notifications when an activity has happened means that the app does that instantly where by it delaying for example for 20 minutes or so might indicate a problem.
It is very important also to note that in many cases, mobile phone owners might alter the default settings and which can too cause delayed or no notifications at all. But never worry, regardless of what you case may be, taking time and going through thus article will help you solve the problem.
How to solve delayed/no push/app notifications in Android
Disable power saving mode – If you have activated or enabled power saving mode for your device, you stand many chances of having delayed or totally no notifications. You have to deactivate this power mode (and by the way this a common cause) and your smartphone will start notifying you instantly.
Enable app push notifications – Facebook for example has an option to activate this in its app settings. Check if the setting is at off and enable it. The same happens to other applications like Whatsapp, Messenger and etc. You can also go to settings, apps, and select some of the apps whose notifications aren't showing and turn them on.
Enable background data usage -This option allows activated apps to continue running in the background even when the device screen is at sleep. Settings this will allow apps to continue sending notifications without waiting for the screen to be on or the app to be touched. You can activate this by going to apps, settings, data usage and make sure all apps are turned to off.
Reset apps preferences – Go to settings, apps and click on reset application preferences. This option will revert all apps settings to default and any misconfiguration will be solved automatically. This is option has 90% chances of restoring all notifications.
Download and install Push Notifications Fixer – This application requires no root besides being free of charge. It is well known for fixing all issues to do with push notifications on Android phones. You can configure it depending on your likes and instantly, your settings will be activated. Here is the download link https://play.google.com/store/apps/details?id=com.andqlimax.pushfixer.noroot&hl=en