[SOLVED] Operation Restricted Only To Fixed Dialing Numbers in Android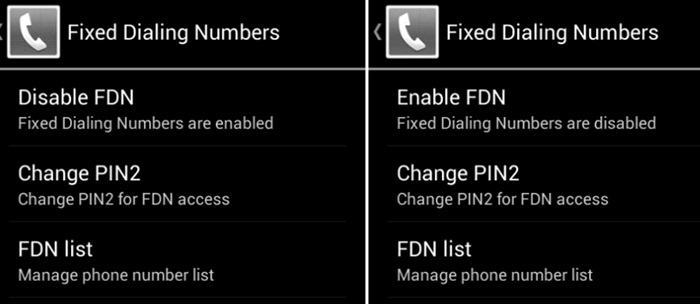 Fixed Dialing Number which is commonly abbreviated as FDN in mobile devices is a service which allows owners to set up restrictions to numbers they only want to call (out going calls). When the FDN service is activated, all outgoing calls are limited to only those numbers in the FDN list there by cutting out those which aren't added.
In this tutorial, I am sharing with you the entire process on how to solve "operation restricted only to fixed dialing numbers" in all Android powered OS devices which have this feature added by default. Please note that since the FDN feature works with PIN 2 security on your mobile, you must be knowing your PIN 2 code as it is mandatory before making any changes in your mobile.
Fixing "operation restricted only to fixed dialing numbers" means turning off Fixed Dialing Number. Please follow the simple procedures below to turn off / turn on / disable the above error. The entire process is very simple and easy.
Fix for operation restricted only to fixed dialing numbers
– Tap Phone
– Tap Menu
– Tap "Call Settings"
– Tap "Additional Settings"
– Tap "Fixed Dialing Numbers"
– Enter the PIN2 code
– Tap "FDN List"
– Tap "Disable or Enable"
Save settings and try making a call. Trust me, this time round you won't be disturbed by the same error. In case you forgot your PIN 2 code, calling your service provider will help you out.