How To Become A Payway Agent In Uganda?

Wondering how you can become a Payway agent in Uganda? I recommend you that you go on and read this post since it contains some vital information which might be very useful in your bid to become one of the Uganda's payment instant bill payments and processing. Yes, I have been asked a number of times by my readers about the same information, and I have too tried my best to contact sources I thought were the best but in vain.
However, as an internet based researcher, I am happy to share with you my findings backed by screenshot on how you should go becoming a Payway agent in Uganda. This same information might as well be helpful to those who live outside Uganda eg Tanzania, Kenya and others basing on the fact that they are among the many who emailed me about the same. One reason this Blog exists, is to share information with whoever might want it, and below we go.
Steps to becoming a Payway agent in Uganda?
Hey, the above is a screenshot taken on Payway's Twitter page – of course, this is publicly accessible. Basing on what Peace asked on the "Become a PayWay agent! Details at http://www.payway.biz" status, the response was for her to give in the contact details so that "may be", she could be responded to. This is the same which option which I tried but in vain 🙂 And for the linked site, its simply a parked domain.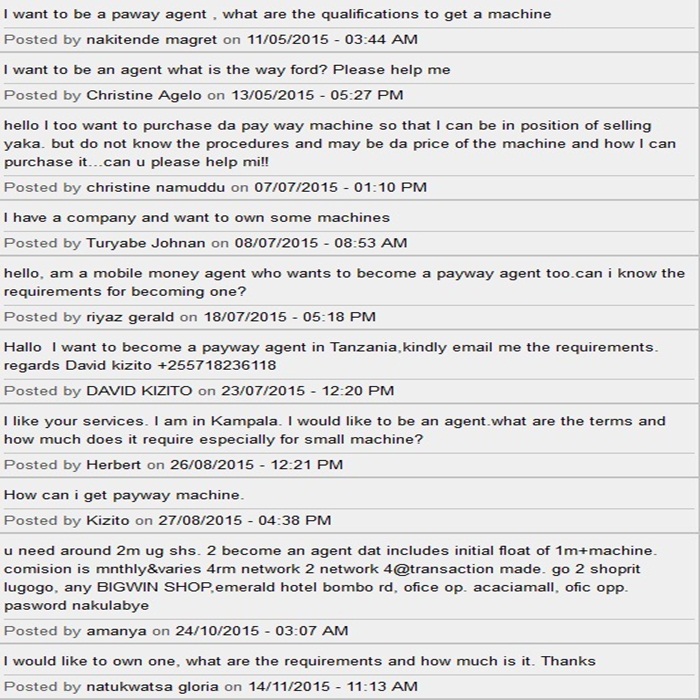 u need around 2m ug shs. 2 become an agent dat includes initial float of 1m+machine. comision is mnthly&varies 4rm network 2 network [email protected] made. go 2 shoprit lugogo, any BIGWIN SHOP,emerald hotel bombo rd, ofice op. acaciamall, ofic opp. pasword nakulabye
In the screenshot taken from this http://www.ugandaonline.net/info/view/12201/payway_the_way_to_go as seen above, the same question has been asked a number of times by different users. And in one of the answers which isn't be confirmed to be a Payway staff response or not, quoted is what was answered. This if true, means that all you need is to have 2 million Uganda shillings.
Take a look at this screenshot above, all messages by https://mobile.twitter.com/pay_way, you will find that you can become an agent in different ways for example; the ones below. With Pay way, you can even buy Skype credits, load airtime, renew TV subscriptions and much more..
1. "Supplement your Income, buy Smart Phone+ Blue tooth printer at only 99$ and become a retailer".
2. "Become our retailer easily and earn, buy our thermal printer at $70 only."
What does all this Mean?
Simple, if you are looking for a way to become a Payway Uganda retailer or egent, the answer is very simple. You can walk into any of the Payway offices and inquire more details. You can as well call them on +256414255108, 0800203020, or even 0792240818 through Whatsapp. You can as well check on their http://www.payway.ug/ website and see if you can get any additional information with regard. Now you see, that is one of the quick ways you can become one!