Vodafone Uganda's 4G SsabaSimu Smartphone Reviewed – Specs, Features And Pricing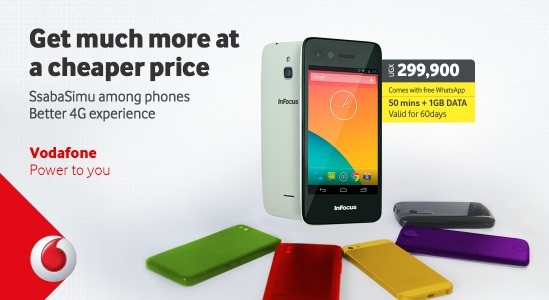 SsabaSimu is the new 4G LTE smartphone offered by Vodafone Uganda and I have reviewed it. This mobile device is one in a million and which many people out there would dream to own. In this review, I have shared with you the features, the different SsabaSimu specifications and its current pricing on the Ugandan Market.
SsabaSimu is a name which is branded in a pure Ugandan local language Luganda and its believed to be a reason as to why many Ugandan's are talking about this new device which was launched and released not long ago on the Ugandan Market by Vodafone.
SsabaSimu is purely 4G, an LTE supporting device and which means faster internet connections to those who are fans of surfing and browsing. Why waste much of your time? Lets head right away to the SsabaSimu specifications, features and pricing.
Vodafone's SsabaSimu Smartphone Features
Vodafone's SsabaSimu has an Android 4.4.2, 1GB RAM; 8GB ROM, a4.2inch IPS capacitive touch screen, 1280*768 pixels, Snapdragon MSM8926 Quad Core 1.2GHz, Expandable storage up to 64GB and is a Dual SIM card. It has a Sleek design with a white back cover, 8.0MP front, 8.0MP back camera and a front facing camera flash.
What do you get when you buy this 229900 Smartphone from Vodafone Uganda?
Inside the box is a quick user guide, Stereo earphones (headsets) for listening to music privately and calling use, a power adaptor, a USB Cable and a Battery.
Conclusion : SsabaSimu is more than just a smartphone. Its out of a local Luganda name, cheaper and has more than a single featyure as seen above.