Casheast.com Reviews! Is Scam or Legit? How it Works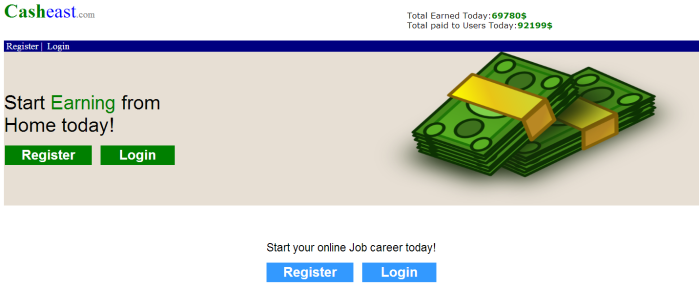 This is Casheast.com reviews! If you've been wondering whether Casheast.com is a scam site you shouldn't waste your time on, or a legitimate opportunity to join rightaway, this post will help you explore the fact with regard. I reviewed it myself and decided to share with you my findings so that you can know the fact before you eventually decide on whether you should join or not.
Just like other websites you have heard of or knew including mycashtable.com, this too is one make money sites which claim to pay its members up to $10 simply for having their friends click on the links given, the same happens with Casheast.com as it too "claims" pay members between 5 to 10$ for every unique visitor that clicks your link and visit it.
In order to become a member and enjoy this "Casheast.com claimed" unlimited earnings for simply doing referral tasks, which you can do by posting your link are social websites like Facebook, Twitter, Google+, Youtube, forums, chat rooms, blogs, etc, one is only required to sign up by creating a free account and after filling in all the required information which only includes the user name, email address and password only.
On Casheast.com, you too don't need to verify your email address or your account as everything looks too good to be true yet that is how it exactly works. Upon logging in, you instantly get access to your referral link and which you are supposed to promote as its the only work you will be doing – to promote your referral link and earn money between 5-10$ for every unique visitor that clicks your link and visit it.
On Casheast.com website, there are alerts letting you know how you can earn 300$ per day and 5,000$+ per month. It is also claimed that once you reach the payment threshold which is $300 as you are given free $25 upon sign up there by requiring additional $275 in order to be able to cashout. The required earnings for payout is 300$ and you can get paid through PayPal, Cheque, Western Union, Money Gram, bank transfer at end of every month.
When you look at the all the above claims, one will wonder if at all it "means that good at marketing leads to a high possibility of earning more than $1000 in a single week for example if you promote your referral link on social sites like Facebook, Twitter, MySpace, LinkedIn, Reddit and others, you stand a chance to get more views on your link and the more traffic your links get, the more your earnings increase as you are paid $10 for every visit".
One big question, and which I am very sure you too is asking yourself is whether Casheast.com is a legitimate or a Scam site. Besides, how to withdraw money made? I just hope that this doesn't happens to be just like the former ones where Chances of reaching payout and withdrawing the money off your funds will get stuck when the survey time comes in.
Since am still trying out for the Survey stuff on Casheast.com, I will surely let you know if it all goes well, how to get payout or not as this will determine whether it is a fake or genuine service which I can either recommend or not.