How To Check / View YouTube Estimated Earnings / Reports
You begun using YouTube, posted some awesome videos, started getting traffic and views on your Channel, have successfully applied for a Google Adsense account, linked it on your videos and started monetizing your traffic. And basing on the current view reports, it's a clear deal that you already starting earning from your postings right? It is time to learn how to view your estimated earnings and reports so you can be on track.
In this post, I am sharing with you how you can go about viewing your YouTube estimated earnings and revenue reports. To view your estimated earnings for your Monetized YouTube videos, follow the below procedures and instantly, you will be able to see your daily, weekly, monthly, quarterly, Ad revenue, Red revenue, which videos are bring in high, how much you have made and etc.
1. Visit YouTube homepage, log into your account and click on "My Channel". If you had already logged in, just access the same from the Interface.
2. Click on Views and wait for the analytics to load..
3. Under Analytics, click on Revenue and wait for page to load.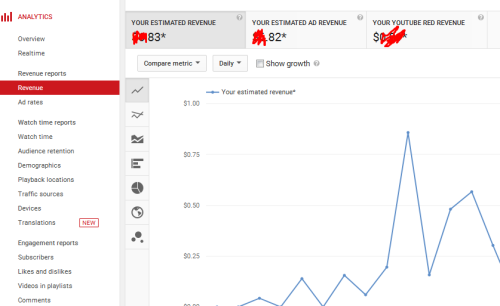 From there, you be able to see all your Estimated YouTube earnings in General and from individual videos. You can navigate and select between daily, 7 days, weekly, monthly and any other option of your choice. You will be able to know how much and etc..