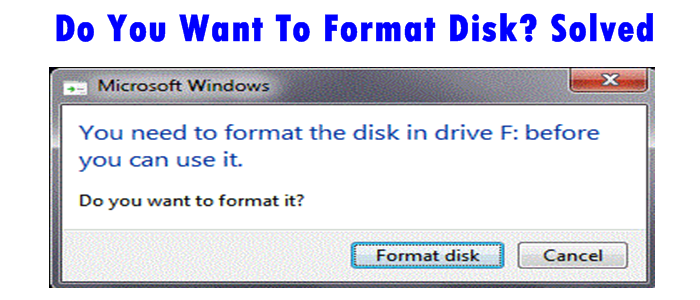 Before I found this 100% working solution which I have shared right in this post, I had previously lost a lot of vital information due to this Flash disk, Memory Cards, Hard Drivers and etc error which will pop up instantly requesting one to format the drive. If you have been looking on how to solve or even how to fix "You Need To Format Disk In Drive Before Using It.. Do You Want To Format?", reading this tutorial will help you answer your problem.
You Need To Format Disk In Drive Before Using It.. Do You Want To Format?.. on Windows operating system be WIN XP/7/8/10, is very common when one attempts to access data on the above drives immediately after inserting the removable drive in the computer. And by this error popping up, chances are that without following the proper guide, you will loose all data.
But you need not to worry any longer since this tutorial has the how to fix. All you need is to follow the above steps and procedures so as to recover all of your data before you erase it by way of formatting it. Lets head to the working solution right away.
Fix for You Need To Format Disk In Drive Before Using It.. Do You Want To Format?
1. Insert the storage device you which is prompting for format in the PC ports.
2. When the prompt appears, click cancel and head to step three below.
3. Click on Start and type the word CMD in the search bar, or type search and enter the same in the search bar.
4. When the CMD prompt appears, type this word Chkdsk I: /r the very way it is. You simply have to change storage drive letter eg replace I with any eg E, G, etc and hit enter.
5. Shortly, windows will start the process of solving the error and it might take some minutes to complete.
FREE GIVEAWAY:-
Amazon.com - Read eBooks using the FREE Kindle Reading App on Most Devices
. Click above, enter your email, select new user, enter name, wait, add and finish. It's 100% FREE and a lifetime offer.
At the end, you will be prompted to enter Y or N to either accept saving recoveries or not. Either way, your data will still be recovered assuming the process was success. No go back to my computer and you will be able to see your storage device listed with its capacity and free remaining space. It is all simple to get fix the above.