How To Make Your WordPress/Blogger Site Mobile-Friendly In Google Search – Top Plugins To Use
Regardless of your Blogging platform whether WordPress, Blogger or any other, know that that Google well said it. Starting April 21, it will be expanding it's use of mobile-friendliness as a ranking signal in search results and do you know what this means? The answer is simple, sites which are not Google Search Mobile Friendly might start seeing themselves ranking low in search results. Yes, you won't be surprised to see a once top ranking site on the first results page being appearing on page 10+.
But there are so many ways one can avoid those drops since when used, one can end up creating, turning, and or even making your already existing website Google Search Mobile Friendly. The good thing of it all is the fact that at a free cost and with a simple activation or plugin installation, your WordPress or Blogger powered site will turn mobile to related users and instantly.
Google already has a mobile-friendliness testing tool which one can use to determine the current stand of his or her website. And basing on the results, you will to know what the next step should be before its too late or even before you are kicked so far in Google search results.
Dropping from Google means so much to webmasters whether you Blog for money, sell a product on your site and any other but for as long as you have a website. Google is known as the internet king, one which is responsible for the majority of the organic traffic people get on their blogs and sites.
A Preview Of Google's Mobile-Friendliness Testing Tool

Like you see the tool in preview above, you are required to type in your website URL and hit Analyze. That will make you check how Googlebot sees your site. If the results are ok, then you need not to do anything but if they aren't, then you should use some of the Plugins recommended below for WordPress and the Blogger tip as seen below.
Preview Of A Google's Mobile-Friendliness Site – Thekonsulthub.com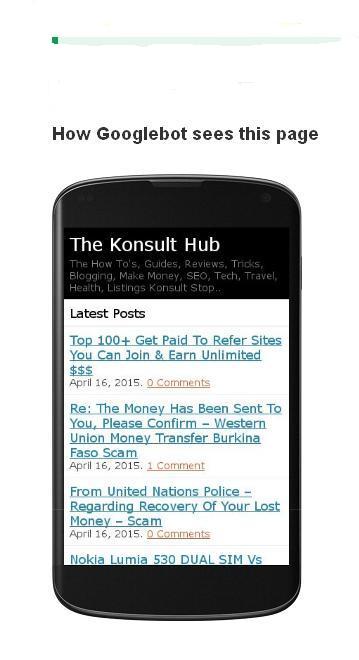 A List Of WordPress Plugins You Can Use To Make Your Site Pass The Mobile-Friendliness Site Test
Any Mobile Theme Switcher – "This plugin allow you to detect all mobile platform and switch the theme. Supports most of the mobile platform including iphone, ipad, ipod, windows mobile, parm os, blackberry, android, andriod tab". The plugin will detect Iphone, Ipod, Ipad, Palm Os, Android, Android Tab, Windows Mobile, Blackberry, Opera Mini and Others Mobile Browsers.
WP Mobile Detector Mobile Plugin – "The WP Mobile Detector wordpress mobile plugin automatically detects if the visitor is using a standard mobile phone or a smart phone and loads a compatible wordpress mobile theme for each. With advanced mobile statistics, image resizing, automatically formatted content, and detection of 5,000+ mobile phones, the WP Mobile Detector gives your mobile visitors the experience they desire.
WPtouch Mobile Plugin – "Make your WordPress website mobile-friendly with just a few clicks. It automatically enables a simple and elegant mobile theme for mobile visitors of your WordPress website".
WP Mobile Edition – "Is a complete toolkit to mobilize your WordPress site. It has a mobile switcher and Mobile themes".
Others include Mobile Theme Switch, MobilePress, WordPress-Mobile Pack, WP Mobile Redirect, Mobiloud Mobile-App Plugin and many more you can always find in the directory.
How To Activate Mobile Friendly On Blogger
Doing it on Blogger is very simple. All you need to do is to activate the Mobile view and you are done. Go to settings and activate it.
Liked this article or found it helpful? Share it with your friends using the social share buttons below and or post a comment to let us know your feedback or any addition using the comment form below…